Amanda Wimer, Our Delightful Server!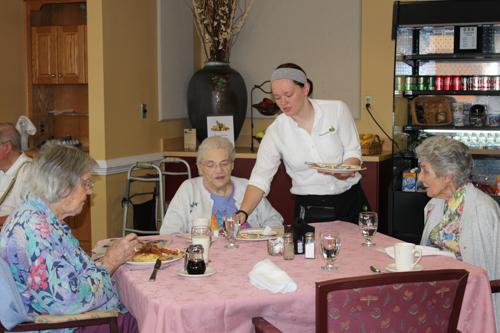 Every Tuesday morning Amanda Wimer welcomes a small group of Sunnyside ladies with a smile, a greeting, and COFFEE! Of course, she does this with lots of other of early-rising Sunnysiders who also make their way to the Tartan Grill. Amanda is a much loved and delightful member of the wait staff here at Sunnyside.
Nowadays Amanda is here at Sunnyside on Tuesdays and Thursdays through lunch, and also on alternate weekends, especially for the Sunday Buffet. On the other weekdays she reports to her new, currently part-time, job in Harrisonburg.
Amanda Wimer is a familiar face to many residents. She came to Sunnyside when she was a 15-year-old teenager, and has been working here ever since! She found out about the job from a friend who also worked here, applied, and was hired. In December she will celebrate her 11th anniversary here! In her college years she returned to Sunnyside during the holidays and summers.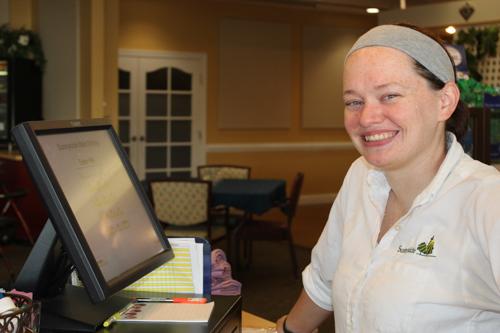 During her years at Sunnyside, Amanda has seen lots of changes, including several expansions of the Tartan Grill, the Buffet dining area and creation of the Market Place. A recent big change was the conversion to the electronic system for ordering and service.
In those eleven years Amanda finished high school – a Blue Streaks alumna of Harrisonburg High School. With the dream of a career in conservation, she graduated from Lynchburg College in 2013, with a major in Environmental Science with special interest in Conservation and Land Preservation. That major area also reflects some of Amanda's recreational interests including hiking, enjoying the outdoors, and on occasion (and the right winter weather) snowboarding!
Early this fall, Amanda was hired to a part-time job in her chosen field. On days when Sunnyside diners miss her, she is working at the Shenandoah Valley Soil and Water Conservation District office, in Harrisonburg. This is one of the thirty regional offices in the state and serves Rockingham and Page Counties. Amanda's work will be with local farmers' agriculture and cover crops, and also with some education assignments. She has some experience with agriculture education, having done an internship while in college with kindergarten through 5th grade elementary school classes.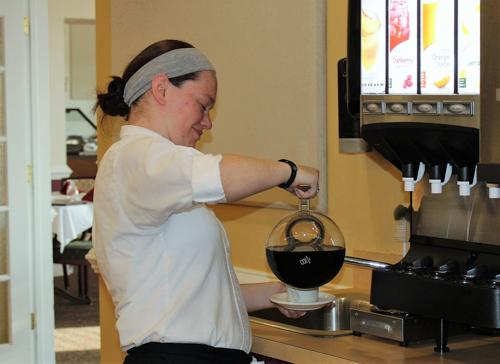 This fall has also brought excitement in Amanda's personal life. In early October on a mountain top, with the full Harvest moon above, Amanda said "yes" to a very special person – Anthony – who proposed in the age-old traditional way – on his knee!
As of now, Amanda's and Anthony's plans are looking toward their wedding next fall. They have just set the date as September 15, 2018. They have bought a house and are working on it, planning to move to their new home together.
We wish Amanda and Anthony good luck and blessings as they enjoy this very exciting and fulfilling time in their lives!
-- Beverly Silver