Charlotte Sibold Comes to Sunnyside!
-by Kat Marlowe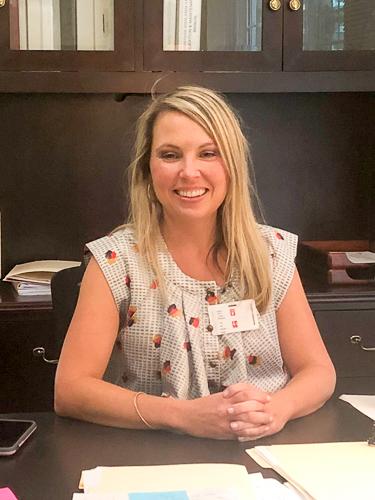 Charlotte Sibold, our new Executive Director, comes to us from Lexington, Virginia, where she has spent the last 20 years. Although she was born in Clifton Forge, Virginia, she considers Lexington to be home for her and her husband, Sam. They have four cats…Buster, Tulie, Sonny and Greyson. Buster is the only one the Sibolds intentionally adopted…the others adopted them!
Besides her parents, who are still living (her mother in Botetourt, Colorado, and her dad in Bath County, Virginia), Charlotte has one sister, Renee, and one beloved nephew, Morrison. They live in Raleigh, NC.
Charlotte considers herself to be an open book. She grew up on a farm, gathered eggs, fed pigs, and milked cows. She loves being on a farm; just doesn't want to live there.
Charlotte earned her bachelor's degree in Professional Communication at Old Dominion. Later she received a Master's in Community Health and Health Care Management, also at Old Dominion.
She started working at Stonewall Jackson Hospital in Lexington as a secretary when an opening for a position in activities became available. She applied and was accepted. She worked in the long-term care center at the hospital. From there, she accepted a position at Kendall Hospital, where she worked for 18 years. She started in activities; then Admissions Coordinator, where she managed admissions to healthcare and assisted living. From there, she was Director of Marketing for five years and spent her last eight years as Health Services Administrator, where she oversaw the Nursing Center, Assisted Living and Clinic.
Recently, Charlotte decided she was ready to do something different, to look for a new challenge. She wanted a really good fit in a nonprofit, values-based community because any revenues/profits are reinvested into the community—for the benefit of the residents and staff; also there is more focus on quality in a 'not-for-profit' (which isn't always the case in a 'for profit'). She loves to hear seniors' stories, likes the campus setting, and wants to be challenged. She looks forward to working with staff committed to serving older adults and making a place feel like home. She has found the residents and staff to be very welcoming, kind, and helpful.
Sunnyside got Charlotte's attention when she saw an ad for an Executive Director at Sunnyside through LeadingAge, a state-level organization that represents not-for-profit retirement communities. She said this was the first position she applied for in which she was never interviewed on-site—all by phone and Zoom. However, she was already aware of Sunnyside and knew it was well regarded. She knew when she first drove in that it was beautiful and had a sense of welcoming. She loves her commute to work every day, driving through the beautiful countryside. Her husband works in Fishersville, but they have yet to decide which of our unique towns to make home.
Charlotte looks forward to exploring how to serve others, the possibility to develop more ways to serve others, and to determine if there are other model practices we should implement. One she is considering is Open Medication Administration, where medications are generally administered the way the resident would take them at home. Most medications are ordered to be taken in the morning or the evening and not necessarily at specific times. This avoids waking residents up to give a medication or interrupting an activity, which will make it a more home-like setting.
Charlotte describes herself as approachable but recognizes that she can't fix all problems. She does want to hear about them, so she can do what she can. She considers herself to be fair, consistent, and willing to listen to all sides. She is a hardworking, dedicated "farm girl" who is fully committed to her position and the Sunnyside community.
She is excited to be here and getting involved in campus life. She "absolutely" wants to stay; their house is on market and this will be her new home. Right now, her first priority at Sunnyside is continuing to navigate COVID-19, then address staffing challenges, specifically working on turnover.