Food, Glorious Food !
It's 7 p.m. and you'd love to sit down to talk with some friends over a cup of coffee (and maybe a piece of chocolate cake!). Well, now you can do just that at the Tartan Grill! New summer hours have the Grill staying open until 8 p.m. Monday-Saturday. Although the buffet shuts down at 7, you can make a reservation and still order off the menu by 7.
I learned that this is just one of many recent changes at the Tartan Grill when I met with the dining room team – Mary Martin, Chris Duling, and Patsy Carrier.
As the Food and Beverage Manager, Mary is responsible for ensuring the smooth operation of the dining services. She handles reservations and plans for large groups and special events such as the Community Breakfast and the Mother's Day Brunch coming in May.
Mary also works closely with Patsy, the Hospitality Manager, who is responsible for training and scheduling the staff. This is an ongoing and complicated task, since so many of the wait staff are high school and college students who are not available during school breaks and summer vacations. But she is especially pleased that Tristan, the high school student who was seriously injured in an automobile accident several months ago – after just two days working here at Sunnyside – has recovered and has recently returned to work as a server.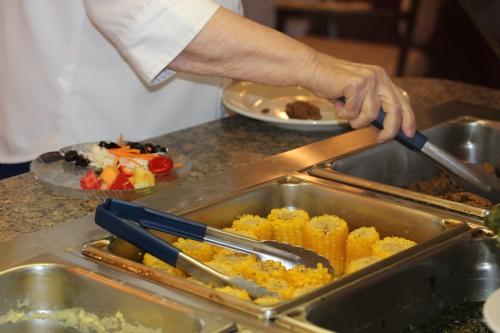 Chris, the Culinary Manager, is the third member of the team; he oversees kitchen operations and is responsible for menu planning and service. Menus are developed on a 12-week cycle. Chris noted that the dinner menu no longer offers a nightly special. Instead, the former specials are now part of the four entrees on the regular menu. This change helps the staff to plan more carefully and reduce waste. Six protein options are always available – four on the regular menu and two on the buffet – each evening. The menu also includes more home-baked items.
Chris stressed that dining services is increasing its emphasis on using local foods. Sysco Virginia buys local produce whenever possible through the Local Food Hub, a nonprofit organization out of Charlottesville that partners with Virginia farmers to increase community access to local food. With a gleam in his eye, Chris shared his dream of having a community garden here at Sunnyside as part of the "Farm to Table" movement.
Mary also talked of emphasizing other local vendors. As an example, she noted the Wine Tasting event featuring local Virginia wines that was held on May 9.
The team is looking forward to a much anticipated new menu and service to be offered when the new Bistro that will extend out over the current maintenance shop is completed. But no timeline has been set, so we won't get the ceremonial ground-breaking shovels out just yet!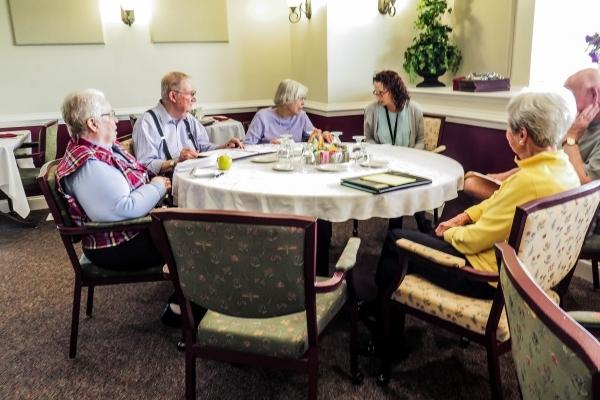 The dining services team welcomes feedback about dining room operations. Often you'll see Mary or Chris circulating among the tables asking about your experience. In addition, there is a Food Committee that meets quarterly to provide specific feedback. Members of this committee are: Frank Lambert, Lena Bish, Barbara Wheatley, Alex Banks, Carolyn Arbuckle, Virginia Reese, Betty Kelley, and Alta Mercer. The committee's next meeting is July 13th at 1:30 in the Tartan Grill.
Finally, there are "We Really Want to Know" cards located on the counter register and also in a holder on the wall to the left of the doors as you enter the dining room. You can place your comments in a secure box there so that all comments remain confidential. One recent example of menu changes based on resident feedback is the return of half and full portions of the featured salads. Thank you very much for listening!
Hats off – or perhaps I should say a rousing toast – to our hard-working dining services team! --Linda Bradley