Fred Schulte Executive Chef, Sunnyside
Fred was born in Memphis, Tennessee.  He and his two younger sisters are all close in age.  One sister lives in Maryland and the other one in Bridgewater.  His mother still makes her home in Memphis.  For Fred, home is here in the Shenandoah Valley with his family.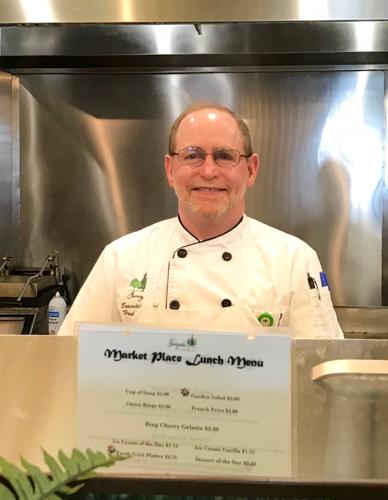 Fred started out as a paramedic in Memphis.  Since he only worked 10 hours a week, he supplemented his income working at the Peabody Memphis Hotel.  (Did you know the Peabody Hotel has ducks living on the roof?  That they regularly marched through the lobby?)  With this introduction to the culinary world, Fred washed dishes, chopped veggies, became a Master Potato Peeler; not much cooking going on.  Fred enjoyed the work and began working and learning from some very good chefs.  Oh, by the way, you will not find duck on the menu of this  AAA Four-Diamond Luxury Hotel.
Fred made his way to Virginia Beach, where the general manager at the restaurant he worked in took Fred to Massanutten Resort to bow hunt in 1997.  He came back for a job interview with Massanutten Resort and was hired as a sous chef.  He had been working for a small family owned restaurant.  Massanutten Resort offered better pay, better benefits.  After a few years, he went to southwestern Missouri to help a friend open a catering business there.  They worked hard all that summer and fall, but the town dies in winter.  He returned to Massanutten Resort and, come spring, he was not ready to go back to Missouri.  He stayed at Massanutten, and (you guessed it) started "talking" to a young lady there.
And, yes, he married the lady.  He ended up working at Merck Pharmaceuticals and starting a family.  He now has three daughters.
Fred had registered on the employment search engine, Indeed, at an earlier time, but never actually used it.  However, he received an email from Indeed suggesting he apply for a job at Sunnyside.  He was aware of Sunnyside, but never thought of it as a place of employment.  He applied and six weeks later, here he is, Sunnyside's Executive Chef.
Sunnyside has worked out well for him.  He lives closer to home, sees more of his wife.  Before Sunnyside, he would be asleep when she came home from work, she would be asleep when he came home.
Fred is looking forward to the Tartan Grill and Market Place remodel.  He would like to see the food upscaled and with more variety.  He enjoys writing menus, wants to make them more seasonal.  Fred has always liked seeing customers enjoying their food.  He also enjoys interacting with the residents.  He is more than happy to work with residents who have food challenges.  Fred plans to stay at Sunnyside until he is through working.  That, I think, is a good deal for Sunnyside.  So, stop by!  Say hi, and enjoy some good cooking.
--Kat Marlowe