Greet Our New Associate Chaplain !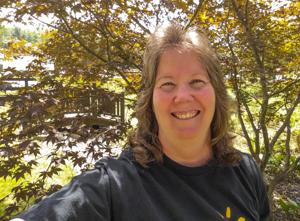 Thirty years ago, Pat Spears moved from rural Louisiana near the Red River to rural Flint Hill, Virginia, near Warrenton, and eventually to Martinsburg, West Virginia. During her time in Virginia, she pursued parallel interests. She satisfied her love for horses, working as a barn manager, and training horses for fox chasing for the Master of Foxhounds. She also completed studies in technical production in Leesburg and then worked in educational TV production for the Fairfax County Public Schools.
Although Pat enjoyed both of these interests, the northern Virginia traffic was definitely not to her liking! With life changes, Pat moved first to Western Maryland and then settled in Martinsburg, WV. While visiting some friends at Lancaster Theological Seminary, she was given a tour of this Pennsylvania campus. She admired its cool architecture and, coincidentally, met with the Director of Admissions. She registered for a week-long set of summer courses, one of which was in preaching, and found she loved it. You guessed it – Pat matriculated and graduated with a seminary degree 3½ years later! Afterward, she completed her Clinical Pastoral Education requirement at Mary Washington Hospital in Fredericksburg and last year, a year-long Chaplain Residency in Ruby Hospital with West Virginia University Medicine. She is ordained as a pastor in the Metropolitan Community Church.
After seminary, Pat preached at a number of churches for various denominations as a fill-in preacher including United Church of Christ, Metropolitan Community Church and United Methodist Church, while working on starting a church in Martinsburg. She also completed a 40-day pilgrimage hiking the Portuguese Caminho, which became a truly life-changing spiritual journey for her.
And how did Pat get to Sunnyside? She saw Sunnyside's advertisement for an Associate Chaplain and quickly applied. Two months and two interviews later, Pat became Sunnyside's first female Chaplain, arriving on campus during the third week of August.
Pat has already been active in starting numerous activities on the Sunnyside campus. On Friday mornings, she facilitates an opportunity for Greeting the Morning through guided meditation. Its current location is the Celebration Garden, but that location will change as the weather dictates. She is also leading a spiritual book group that presently is reading "The Places That Scare You" by Pema Chodron. She is planning the next book group offering to be on Native American spirituality. Pat is also planning to start a blog on the Sunnyside Times website.
One final question – what does Pat like to do in her "spare" time? She has two wonderful dogs, Maizey Grey and Ragz, and she gets her "horse fix" by occasionally helping a friend back in Flint Hill. She's also in the process of selling her home in Martinsburg and hopes to find more time to rekindle her interest in photography.
Pat is pleased to be continuing on her own faith journey by walking alongside Sunnyside residents as they continue on their own journeys. Chaplain Pat, we welcome you to Sunnyside!
--Linda Bradley