Happy Anniversary to Sheila Higdon !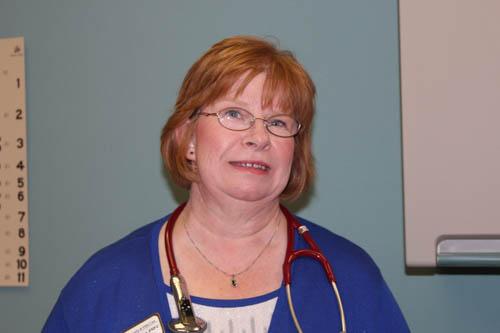 Sheila Higdon, Nurse Practitioner, celebrated her one-year anniversary at Sunnyside on June 5, 2018. She grew up in Shenandoah County with two sisters and one brother. Her family hails from west of Mt. Jackson, and she graduated from Stonewall Jackson High School.
That was just the first graduation for her. Right out of high school, she went to the Triplett Business and Technical Institute in Mt. Jackson and became a Licensed Practical Nurse (LPN). She worked for 15 years as an LPN. Then it was back to school at Columbia State Community College, in Columbia, Tennessee. She became a Tennessee Board of Nursing (TN) Registered Nurse. However, she saw that, in time, nursing was going to require more than an Associate Degree in nursing, so back to school again, this time at Eastern Mennonite University where she completed her Bachelor of Science and Nursing degree in 2006.
At age 50, she went back to school again, this time at the Shenandoah University in Winchester, where she earned a Master of Science and Nursing, with a focus on Family Nurse Practitioner. Then, back to work as a Nurse Practitioner at the Family Health Center in New Market.
So, how did she get to Sunnyside? She explained that a former nursing colleague knew she was looking for something different and told her about Sunnyside. She provided her credentials to Dr. Shenk. She was then hired as Nurse Practitioner, working all day on Wednesday, Thursday, and Friday. She noted she loved doing the work she does and the compressed schedule allows her to spend more time with her two-year-old granddaughter.
Sheila appreciates that the residents here are very interested in their health and make it an important part of their lives. She found that there is a lot of family involvement here, which she feels is important. She values the acceptance of the Sunnyside community of her as a clinician and feels it is important to know her patients as people, not "the diabetic" or other condition. Of course, there is often a downside, even when you love your work. For Sheila, it is having to provide bad news to patients or their family.
Sheila would like to see more people utilizing the clinic and especially would very much like to see more independent living residents use the facility. She has found that a lot of independent living residents are not aware that she is available for appointments Wednesday through Friday. She is looking forward to seeing more of these residents.
Sheila said her most interesting experience in nursing was, as an RN orientee on the Thoracic Cardiothoracic Post-Op Unit at UVA, watching a heart transplant. She noted she has spent 12 years in critical care and has been in nursing for 38 years.
Future plans? NOT more schooling! Camping, gardening, cooking, spending time with family and friends, traveling the North American continent.
Now, back to that 2-year-old granddaughter, Emily. That little girl is loved with a capital "L." Emily and her mom had a very rough time; she was born prematurely at 31 weeks. She did not come home from the hospital for two months. Sheila has always been very involved with her, working to help Emily reach her developmental milestones. But now, she is doing well and can do no wrong when it comes to Sheila! Emily brings much joy and many smiles to Sheila and her family. --Kat Marlowe