POSITIVE CHANGES IN HEALTHCARE !
When you read the latest article about some of our residents attending the VaCCRA meeting in Richmond, you can see that Karen Riley, our new Health Services Administrator, is making many of the suggested changes right here at Sunnyside. Read on!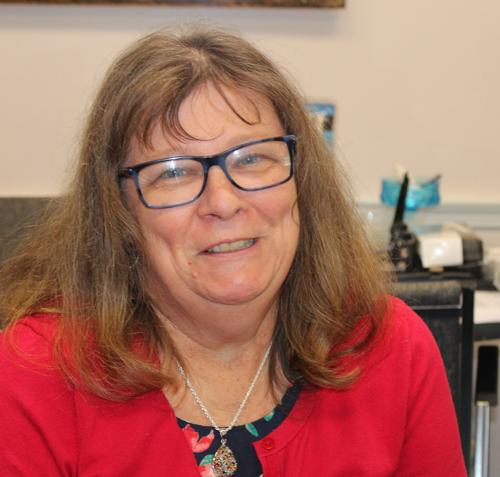 "What kind of music do you like? We can put whatever you want from our music library on an IPOD for you. To make you feel more at home here, would you like to decorate your room with a few things from home?"
These are the friendly words of your nurse in Health Care who will try to make you comfortable when you are a patient or a resident there. She'll talk with you about taking your medications, when you would like to have your bath, the warm towels available, and what foods you like. She'll even show you the two fish tanks down the hall!
Karen Riley, MSN, RN-BC, LNHA Health Services Administrator, in her gentle and soft-spoken way, has been instrumental in moving Sunnyside from a routine, medical type of patient care, to one where the staff encourages patients to talk about what they like and how they would like to do it. This is the new philosophy all across the U.S. for a more personal type of care to make patients and residents feel at home. Karen feels happy with her team of nurses and has worked with them to listen to their patients and help them to be involved in their own care.
Health Care has a Resident's Council with approximately 20 patients. It meets once a month to discuss various activities, likes and dislikes, and possible changes. Richard Williams is the Council chairman. Residents also have a Social Hour each month.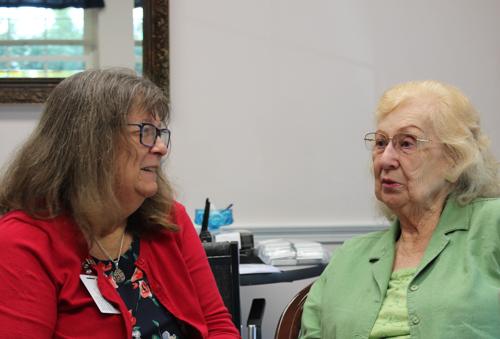 Karen plans to continue with music sessions and possibly some resident artwork. She also hopes to get a small bird or parrot soon for residents' enjoyment. Her goal is to have the Person-Centered Care program moving along smoothly in the years ahead and to continue to encourage interaction with other residents and staff. Thank you so much, Karen, for your vision! --Marlene Gillikin