Meredith Breeden, Volunteer Coordinator, Sunnyside
Near the entrance to the Sunnyside Health Care/Wellness Center in the Eiland Center is the tiny office of MISS MEREDITH BREEDEN, our new Volunteer Coordinator!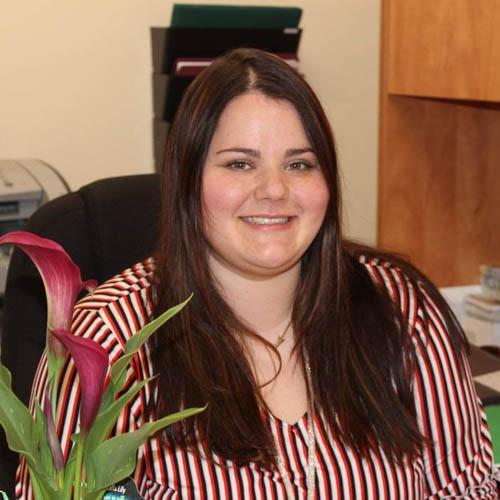 Meredith has taken on a BIG job at Sunnyside - the coordination and management of all the volunteer activities that many residents and members of the broader community provide for Sunnyside.
Meredith is a real Valley girl. She was born in Martinsburg, WVA, grew up and started school in Berkeley Springs, moved to Strasburg, VA and finished high school there. She attended Lord Fairfax Community College and transferred to EMU in Harrisonburg. She graduated in 2016, majoring in Peace-Building and Development. Meredith chose that major from prior thoughts and desires to work in the peace-building areas and to understand conflict and how to peacefully resolve situations.
During those college years she worked with the "On the Road Collaborative", a youth empowerment organization. She did an after-school (non-profit) internship in a local high school (spring 2016). The summer after graduation she participated in the Americorps program, and from 2017 to last November she served as the High School Coordinator for the "On the Road" program. That is when she accepted the position of Volunteer Coordinator at Sunnyside!
Meredith is interested bringing young people (college students) into the Sunnyside community, particularly volunteering in Health Care and Assisted Living. When asked how does she reach the local college students (mostly from JMU), she smiled and replied "They come to us!". Students with a wide variety of majors find out about Sunnyside and contact her. Many have classes and studies in such areas as Gerontology, Health and Health Administration, as well as other majors. Some come from academic and service-associated clubs and want to be active in the Community Service Learning program (CSL). Students in the areas of physical therapy and occupational therapy also come to SS through the Volunteer Office.
"No day is the same!" says Meredith, with another big smile. The span and scope of her needs and opportunities for volunteers include: Assisted Living, Health Care, the Terrace as well as other areas such as Bridge and game players, bus drivers and escorts for resident off-campus activities, pianists, and other areas of help and care. Other examples include mail delivery, helping to decorate and set up some social activities and special occasions on the campus. Not only do Sunnyside residents volunteer their time, talents and skills, but there are also many people in the broader community beyond Sunnyside who volunteer here. They, too, are great assets to the quality of life for Sunnysiders.
Recently Meredith has been using email to the independent-living community about specific needs, opportunities and activities. In addition to filling the ongoing needs of the SS community, resident volunteers are especially needed during the times of the local college "breaks" - holiday breaks and summer break. Also, in the summer we benefit from having some local high school students to volunteer.
Here are some specifics: Meredith has needs of volunteer service on weekdays from 9 to 11 a.m and from 1:00 to 3 pm, She would love to be contacted by residents who might be able to help out during these times.
Along with her responsibilities to provide volunteers in AL, HC, and the terrace, Meredith has begun a new partnership with Dining Services, particularly in the Eiland Center dining rooms, providing volunteers at 7:30 - 8:30, 11:30 - 12:30, and 3:30 - 5:30, to greet the diners, pour coffee, etc.
Meredith's duties include the scheduling and instructions to volunteers, their orientation to the Sunnyside volunteer program, and all the paperwork that involves, and also going to recruitment events .
How about Meredith Breeden, delightful young woman who has taken on all these duties and responsibilities - well -
Personally -
In her spare time, away from Sunnyside, she has lots of interests and lives with a canine companion, "Luna"! "A White Lab - not a Yellow Lab! " I was told! She and Luna are firm buddies and both enjoy their morning - before work - and evening walks when Meredith gets home. Meredith likes movies, the "high suspense and drama" kind, and can enjoy them at her own schedule choice with the newer ways of access, e.g. Hulu and Netflix. In music she surprised me by telling me she really likes music of the 50's an 60's. (Me, too!) Her Mom also benefits from Meredith's proximity, being nearby, and they love to be able to able to spend time together.
Meredith has been able to enjoy some interesting travel, including cruising in the Caribbean, and a six-week tour in Europe, including the Baltic, Lithuania, Estonia, and Latvia. She is looking forward to other visits to such places as Scotland, in her Mom's heritage, and Italy, in particular.
In her passion for service to others, a true calling for Meredith Breeden, she has worked with and served, first, young people, and now - with the current age group, older people. Meredith is very happy to be able to work with and serve the Sunnyside community.
We here at Sunnyside say "Welcome to Sunnyside!" to Meredith Breeden. We are so glad you are here with us - all the staff and residents. We look forward to getting to know you better and are grateful for all your efforts.
P. S . If anyone who reads this wants to talk with Meredith, her phone number is 568-8216 and her email address is < meredithbreeden@sunnyside.cc > She would be glad to hear from you!
-- Beverly Silver