Our Smiling Receptionist – Katheryn Bennett!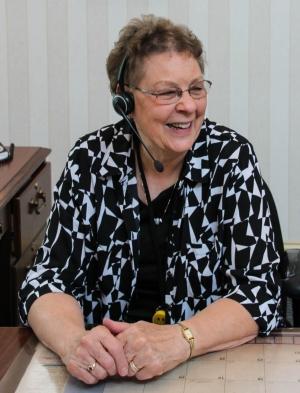 Although Katheryn Bennett, receptionist in the Corson Lobby, loves what she does, she is actually on her fourth career. Before coming to Sunnyside in October of 2004, she worked for 32 years as a secretary to the minister of First Presbyterian Church in Court Square. She was retired from that position for all of 24 days before she joined the staff at Sunnyside. (She found out about the opening at Sunnyside while on a well-deserved vacation in New England following her retirement from First Pres.) But even before she started working at the church, she had decided she wanted to be a cake decorator. To learn this trade, she took an intensive two-week decorating course in Chicago, and although she didn't work as a cake chef for long, she did manage to make cakes for both her own and her daughter's wedding. (By the way, I asked whether she still catered, and unfortunately she doesn't.) And even before that she worked as a waitress, a position that she empathizes with and that influenced her to become a "generous tipper."
Katheryn and her husband Melvin have lived in Harrisonburg for 44 years, but she's not a native—they were both raised in West Virginia. Katheryn grew up with three sisters and a brother in Seneca Rocks, and she graduated from Circleville High School. In high school she was an award-winning typist, a skill that served her well in her professional capacity. Katheryn and Melvin still go back to Seneca Rocks fairly often—at least in clement weather—because they have a 200+-acre farm there. Because the farm is near one of the highest points in West Virginia, roads are often impassable in winter.
I asked Katheryn about the transition from typewriters to computers, and she replied, "One day they just decided we needed a computer at First Presbyterian, so they brought one in, and I just had to learn how to use it." Her computer education was perhaps eased by her daughter, Elizabeth, who graduated from JMU with a degree in computer science. Both of her children have stayed close to home, for her daughter lives in Grottoes, and her son, Melvin, Jr., works on the maintenance staff at Sunnyside.
Katheryn loves to spend time with her family, especially her eleven-year-old granddaughter and four-month-old grandson. Family vacations tend to be spent in Myrtle Beach, but a few years ago Katheryn and her family had had their dream vacation—in Hawaii.
Katheryn sees her main role at Sunnyside as "making residents happy. I realize that I'm in their home and try to treat them the same way I'd like to be treated." It's clear from talking to her that she's also "found her home" at Sunnyside. --John Noffsinger