Welcome to Stephen Ray!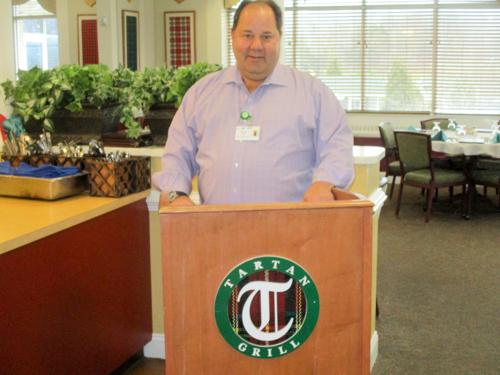 Stephen Ray Directory of Food and Beverage Services Sunnyside Retirement Community as of October 2019
Welcome Steve Ray our newest addition / link in the Sunnyside food chain.
Steve brings to Sunnyside years of experience and the love of working with people and food. He has learned one of life's best secrets for a life of working contentment; find employment that will pay you to do what you love to do.
Steve was born in Buffalo, New York and he is a graduate of Niagara University. As a youth he enjoyed cooking, sailing his sail boat and playing hockey. His degree is in Business and Marketing.
One of his jobs took him to Ohio and there he met his future wife Andrea, a pretty lady from Harrisonburg, Virginia.
They have two children now both grown and on their own, replaced by two Labrador dogs, a yellow one and a black one.
Steve's career path enabled him to work with the Virginia Military Institute and James Madison University, from which he brings very valuable experience to the taste buds of Sunnyside.
A happy, pleasant fellow who drives a practical Volkswagen Jetta and enjoys yard work that includes yard and garden. He has a  positive outgoing personality and a very optimistic attitude for the future of Sunnyside. He is proud of the staff he has joined and has found them to be hard working professionals who care about people.
He eagerly anticipates the pending renovations of the dining facility and predicts that the work will render more space and an easier flow for patrons.
Steve plans to mingle and get to know us in short order, and he welcomes feedback and any ideas that might improve the dining experience at Sunnyside.
Welcome aboard Steve, what you do is very important to us.
--Ludd Creef