SUNNYSIDE'S 11th ANNUAL APPLE BUTTER FESTIVAL
From September 2015 Tips & Tales Shared by Pat Harkins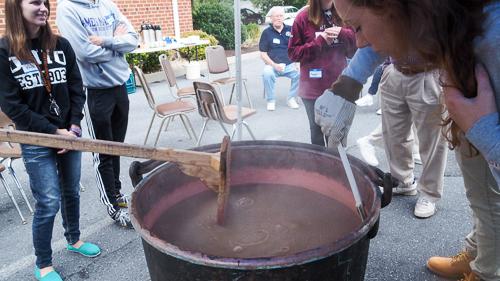 Saturday, Sept. 26, 2015 - 9 AM – 1 PM Eiland Center -- We are getting very close now to just being able to enjoy this year's Festival and revel in the proceeds of all of our hard work. But there are still a few very important things that need to happen.  Number One is making the Apple Butter.
This year's theme is "One Day – Three Kettles". Yes, we will have three kettles going this year and Alex Banks will be wearing himself out hopping from one to the other. Sign up to take a turn with the ladle and stir the pot on Thursday, September 17th from early morning to whenever it is done. Remember, you won't be stirring for an entire hour and refreshments are cheerfully supplied throughout the day!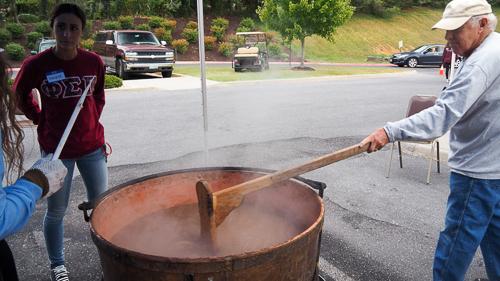 Labeling t
he a
pple butter will be done on Friday, September 18th starting at 9:00 am in the Arts & Crafts Room in the Eiland Center. You can also volunteer to work the day of the festival for one hour or more. There are opportunities to volunteer as a greeter in the Corson Lobby or out by the Re/Max hot air balloon at the upper parking lot. Additional volunteers are also needed for several of our shop venues. Sign-up for a time slot by calling Joni Runzo or stop by the Volunteer Office where a clipboard is posted on her office door.
Number Two -- start baking for the Bake Shop. The Bake Shop is always one of the most popular shops at the Festival and they need everyone's favorite baked goods to help stock their shelves for the festival. Baked goods can only be delivered to the Corson Lobby or to either reception desk on Friday, September 25th between the hours of 9:00 am and 12:00 noon for set up and pricing. Questions? Call Pat Oxley or Nellie Koon.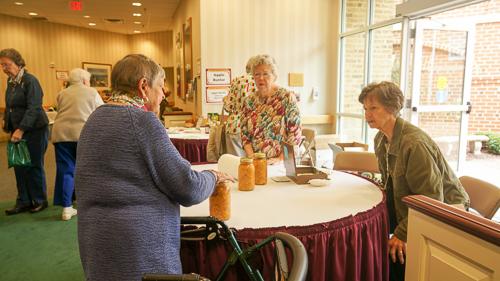 Remember those three main things we can all do to make it a successful festival this year? Sure, you do! Donate, Volunteer, Participate! Participating is just as important as the first two – plan on attending the festival. Invite a friend from the old neighborhood, family members or just gather some of your neighbors together. You can shop, bid on an auction item, have something good to eat, visit with friends, and take home a pint or quart of apple butter.
 Reminder: There will be shuttle service the day of the festival running from the Highlands on the half hour and pick-ups can be scheduled throughout the Village by calling Joni to sign up. You must sign up by 9:00 am on Friday, September 25th to schedule this service.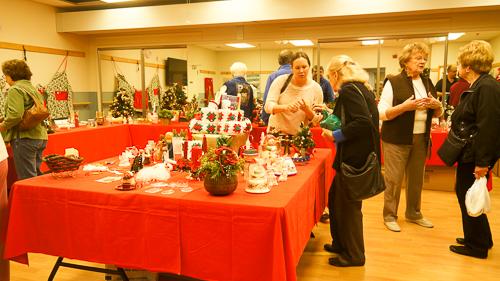 About those final thoughts? It has been a pleasure to work on the festival this year – we have expanded our advertising and are expecting or at least hoping for a larger crowd this year. You – the residents – have been amazing in your response to our calls for donations! We should have each and every shop filled with things to sell for the festival as well as stocking the Gift Shop for the upcoming holiday season. I am certain that your response to calls for volunteers and donations of baked goods will be just as spectacular. Thanks to all of you for your efforts and the donation of that most important commodity – your time. It's going to be a great Apple Butter Festival – Be a part of it!
As you can tell from the above story, the fall Apple Butter Festival was a BIG DEAL for some 13 years on the Sunnyside campus and in the community.  It started as a project of a local Presbyterian church to make apple butter on campus and then was converted by Sunnyside residents into a comprehensive festival, according to Alex Banks, who oversaw production for many years. JMU students were even recruited to help stir the pots for eight to 10 hours. Money raised from the various activities of the festival went to Sunny Treasures to supplement activities and services that benefit residents at all levels of care. The last Apple Butter Festival was in 2017 and it was followed in the fall by an elaborate Soiree at the Madison Hotel in 2018 and the Festival of Trees on campus in 2019.  A little virus halted such events in the following two years.