Veteran Albert Henry "Al" Hoefling, Jr.
    Albert Henry "Al" Hoefling, Jr.
Albert was born May 12, 1931 in Wilmington, Delaware. Al's father worked for the Ford Motor Company delivering cars to various sites on the east coast. His mother left the family when Al was 11 months old and he was given to God Parents, his uncle and his wife, for a period of time. His father then married Marion Alexander and the family lived in Wilmington. For the first time in his young life Al had a permanent home. He fondly remembers fishing with his father along the New Jersey coast and in the Chesapeake Bay and going on family vacations to Florida. His father was an aircraft spotter and his mother served on the County Rationing Board. After graduation from high school in 1949 he worked briefly for the Hercules Power Co. and then was admitted to the School of Business at the University of Delaware.
In the middle of October of his freshman year in 1949, Al received a telegram on a Friday afternoon from his Draft Board ordering him to report to Fort Meade in Maryland following Monday morning for induction into the U. S. Army. The short notice did not allow him to follow established procedures for withdrawing from the University.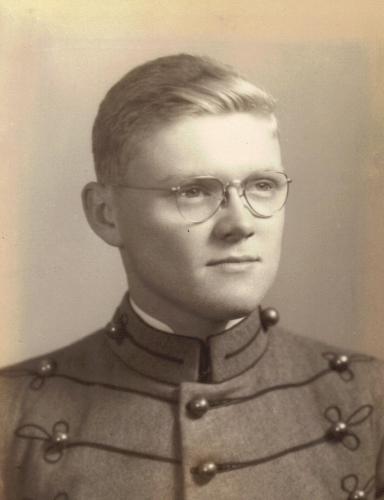 At Fort Meade, other problems emerged for the new inductee. The Draft Board's order for his induction did not arrive and for six months he was assigned various work details including work in the dining hall. In May of 1950 he asked his Company Commander for orders to visit the draft board to clarify his status and his request was granted. He then went to the Draft Board and was told that he would be drafted again in two years. His family was unable to advise him concerning what he should do. Al then sought counseling from a Presbyterian minister who had served as a U. S. Army chaplain on Iwo Jima and was advised that he might want to join the Army Reserve. He followed this advice and enlisted in 374th Finance Disbursing Unit where he obtained the rating of Corporal.
By the time Al was drafted for the second time in April of 1951, the Korean War had been underway for almost a year. This time he was sent to Camp Breckenridge, Kentucky for sixteen weeks of basic training with 101st Airborne Division. After completing basic training, he was sent to Fort Lewis, Washington and then, still in his summer uniform, was sent by troop ship to Anchorage, Alaska.  He learned from this experience that one should never plan a voyage to Alaska during the winter months.  After a two-day train ride he arrived at Ladd Air Force Base near Fairbanks. Here he was assigned to a 4.2 Heavy Mortar Company in the 4th Infantry Regimental Combat Team.
In 1951, the Cold War was very intense and there were fears that the Russians might attack U. S. installations in Alaska from across the Bering Strait.  At this time the Air Force and the Army were serving as an early warning system. The U. S. Air Force was flying sorties over the area to detect any Russian activity. Al's unit was assigned the mission of providing protection for  the air strip and looking for Russian parachute attacks. Alerts could come at any time and when an alert was given, Al's Heavy Mortar Company was deployed. In the summer deployment was made difficult by the swampy terrain and in the winter it was hindered by the deep snow and cold.  On some occasions the unit traveled on frozen rivers to get to their positions.
Al's tour of duty ended in March of 1953 and he returned to Baltimore by air and then to Wilmington by train. All Korean Conflict draftees had an eight year reserve obligation and he entered the Reserves. He again served in the 374th Finance Unit for 19 years and obtained the rank of First Sergeant. In 1971 he retired from the Active Reserves and in 1991 he was given a Certificate of Retirement from the Ready Reserves. While serving in the Active Reserves in Wilmington, he was employed by the E. L. DuPont de Nemours and Company Inc. There he worked for 34 years in customer service until his retirement in 1992.
While working for DuPont, Al enrolled in the Pennsylvania Military College in Chester, Pennsylvania under the G. I. Bill. When he was in his sophomore year, Pennsylvania Military College was closed by the Federal Government. Al visited the University of Delaware armed with his draft notice, twelve semester hours of credits in business, and his credits from Pennsylvania Military College. He was told that there was no place for him in any school of the University because all places were filled with students on the G.I. Bill.
In 1955, Al met Mary Lou Huffman from Luray, Virginia. Mary Lou was a nursing student at Rockingham Memorial Hospital in Harrisonburg, Virginia and was in Wilmington to complete courses not available in Harrisonburg. They remained in contact by letter, telephone calls and visits. After her graduation from nursing school the couple was married in 1956. They made their home in Hockessin, Delaware where they lived for 42 years and raised two children who both graduated from the University of Delaware.
Following retirement, the maintenance of their home became a burden, and they made the decision in 2008 to move to Virginia to be near Mary Lou's three sisters and two brothers. They selected Sunnyside Retirement Community as their new home and now reside in the Glen.
As told to Bill Blair