Veteran Charles Campbell
Charles Campbell
Near Seneca Falls, New York, Charles Campbell was born on 25 March 1927 to Albert Nelson and Edythe Mae Campbell. Charles had one sibling, Barbara, who was two years younger. After attending a kindergarten near his home, he completed the rest of this public education at schools in Seneca Falls and graduated from Myndersa Academy. In spite of the harsh winters Charles remembers that his schools was closed only once due to a large snow fall.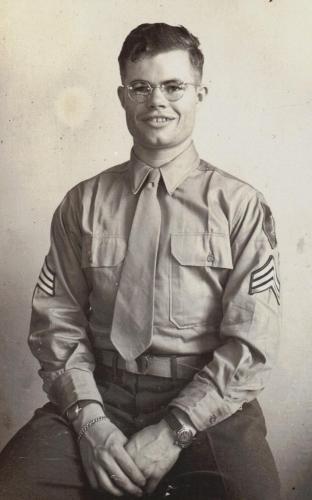 In those days bullying was not a concern and one older large boy on the school bus physically tormented Charles. One day Charles lost his cool and struck the larger boy in the nose. Blood flowed freely, but a close friendship developed between the boys as a result of the encounter. Later, when both were on the high school football team, the larger boy blocked for Charles who was a running back on the team. He and his family traveled to dog shows where they showed the cocker spaniels which Charles family raised. These trips provide many fond memories. At Christmas he and his sister cut their own Christmas tree and decorated it.
Charles' paternal grandfather, for whom Charles was named, emigrated when seventeen to the United States and was an apprentice in granite finishing. His grandfather worked in the granite business in Vermont and then moved to New York and final settled in Seneca Fall with his wife who also had emigrated to the U. S. from Scotland. Charles remembers vividly auto trips with his grandmother who seemed to understand how to use the horn and accelerator, but not the brakes! While in high school during WW II he remembers working in a federal project which was seeking to extract latex from dandelion plants. He was captain of his winless high school football team as a senior and this experience taught him humility. He was editor of the school newspaper, president of his class, class salutatorian, and an Eagle Scout.
Two days after high school graduation in 1945 Charles was drafted into the U. S. Army after vision problems stymied efforts to enlist in the Navy and to gain admission to West Point. The Army was little concerned about his minor vision problems and sent him to Camp Wheeler, Georgia for basic training. Four weeks into basic training, the Army sent him to an Ivy League college for a crash course in Japanese. Charles, being a naive 18 year old, thought that this would be great, but did not realize that he would probably be the first to stick his head into Japanese's bunkers. Fortunately, the war ended in August and he knew he would probably become a part of the army of occupation either in Japan or Germany.
Europe proved to be his destination and In December he boarded a converted small luxury liner for the transatlantic voyage. The seas were very rough and he suffered greatly from seasickness. After arriving at Bremerhaven he was loaded on a cold box car and headed south to begin his assignment. He recalls hearing the church bells ringing in the small towns they passed through on that cold Christmas Eve of 1945. On Christmas Day he arrived at Bamberg and was given Christmas dinner.
The next day he was assigned to Company H, 16th Infantry Regiment of the First Division, the "Big Red One." Duty consisted mainly of guarding German prisoners of war and displaced persons who were inclined to stay put because of the good food and shelter provided for them. Someone noticed that Charles had been editor of his high school newspaper, so he was removed from guard duty and made a "gossip reporter" for his battalion to the regimental newspaper. He was bored with the assignment and missed out on trips to perform guard duty in Vienna and Palestine. Later, because of his exhausting duties as "reporter" he was given R and R and was sent to a resort in the mountains where he was able to ski and visit Lindendorf Castle, the home of "Mad" King Ludwig II.
After assignment as a guard duty on the Czech border where he was billeted with civilian families he returned to Freyung. Charles was placed in charge of Company H supply room. He received a promotion in rank and was assisted by a 16 year old German boy who was a displaced person and who did not know the fate of his family. Near that time his unit was transferred to Landshut on a tributary of the Danube River. Soon he was promoted to Sergeant and was a full-fledged supply sergeant. He then was attached to the 7th Field Artillery and helped to organize a new supply function for that unit. Finally, on 19 November 1946 he was again in Bremerhaven on his way back to the U. S. and home. He arrived home before Christmas 1946 and was discharged the following January.
Before being discharged he had started matriculation at Rensselaer Polytechnic Institute. He declared a major in chemical engineering and with the aid of the G. I. Bill and summer jobs he was able to finance and complete his education. While in college he lived in housing for veterans, worked hard, and also had some fun. He was saddened by the death of his mother during his junior year.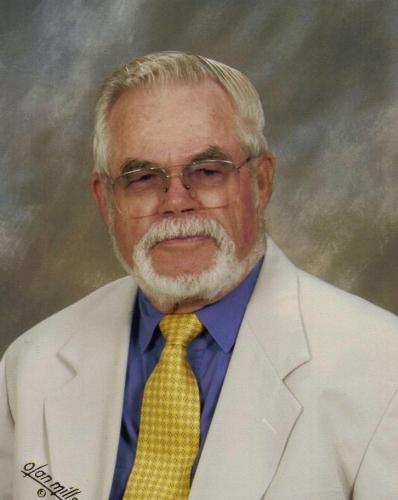 Job interviews were followed by several job offers and Charles chose to join the Merck and Company Inc. His first job was at Danville, Pennsylvania and there he met his future wife, Nancy Jane Deeter. Charles claims that he was ensnared by her mother's cooking skills. They were married on Valentine Day 1953. The couple continued to live in Danville and was blessed with three girls and a boy. Life was soon filled with fatherly involvement in Little League, dance lessons, and competitive swimming. Charles helped maintain the swimming facility and finally became a coach and judge. While on a trip west, his daughter set a national record for ten year old girls in the AAU 50 meter event.
When plans were initiated in 2005 to open The Glen at Sunnyside, Charles and Nancy made the decision to relocate there when units were completed. In 2007 Nancy again had heart problems, but continued to help with plans to decorate their new home. She passed away in January 2008 and Charles moved into The Glen in July of that year. Following Nancy's death Charles continued an active life with community, church, and travel activities. He is a long time member of the Lifelong Learning Institute sponsored by James Madison University and has signed up for five classes in the fall of 2012.
In reflecting upon his life, Charles stated: "I've led a fruitful and interesting life . I'm looking forward to my declining years at Sunnyside with support from my children, grandchildren, and great grandchildren."
As told to Bill Blair