Veteran Frank Shakespeare
Frank Shakespeare
A Shakespearean Saga
Frank Shakespeare, in navy terms, was "launched" into this world on 31 May 1930 in Philadelphia Pennsylvania. His parents, Frank and Lucinda, soon moved with their family to Dover, Delaware, a small town of 5,000 inhabitants. There Frank attended elementary, junior high school, and high school in adjacent buildings and graduated in 1948.
Life in Dover during the Great Depression and World War II was formative time for young Frank. The family maintained a large Victory Garden, raised rabbits, chickens, and turkeys, learned to eat muskrats from the nearby marsh lands, and cut their own fire wood by hand. Dented cans of plum and fig pudding from a neighborhood food processing plant and bags of chicken skins provided occasional tasty treats for the family. From these experiences, Frank learned the value of living frugally, working hard, and making do with whatever was at hand.
A singular event in Frank's early life was the sudden death of his younger brother. There was only a year difference in their ages and the teenage boys were very close. The brother became suddenly ill on a Friday morning and died on the following Sunday morning. This tragic loss greatly affected Frank and he wondered, "How can this be." The family spent time each summer at Dewey Beach, Delaware and Frank's mother who was an amateur palm reader told him that "You are going to travel a great deal over the ocean." As young Frank looked out over the wide Atlantic Ocean while at the beach he wondered, "how this could be?"
Frank was distracted by basketball and other activities and did not exhibit good study habits, but managed to get through high school. His father decided that Frank should attend a prep school in Washington D. C. Attendance at the school opened the larger world to Frank and he enlisted in the USMC Reserve Unit stationed at Anacostia Naval Air Station. While a member of the unit he was a part of the unit guard detail for the inauguration of President Harry S. Truman. Also, he became aware of the examination for admission to the U. S. Naval Academy. Through hard work, the push of his father, and the faith of his mother, he successfully completed the test and was granted admission to the Academy. In June of 1949, nineteen year old Frank became a midshipman in Annapolis.
As a "plebe" he received his basic military training. Since all midshipmen were required to participate in extracurricular activities, Frank decided to try out for the basketball team, but failed to make the final cut.  Frank was disappointed, but then a friend suggested that he try out for "crew." Frank was unfamiliar with the term and went to the boat house to investigate. He liked what he saw and at Christmas he told his father about the opportunity. His father approved and predicted that he would be a good rower. Unfortunately, his father passed away the following March and did not live to see his prediction come true.
Frank made steady progress and by his second year he was placed at the bow oar on the first varsity boat. The team enjoyed limited success, but the next year, 1952, they were outstanding. They beat all comers, won the national competition, and were selected to represent the United States in the 1952 Olympic Games which were held in Helsinki, Finland.  In the finals, they out-rowed the USSR team and won the gold medal while the Soviets won the silver. Securing the gold medal was one of the most significant events in Frank's life. During his final year at the Academy, his team of eight rowers remained unbeaten in 1953. Later Frank and his fellow crew members were recalled from sea duty to seek to qualify for the 1956 Olympics. They finished third in the trials and therefore failed to qualify for the games.
Frank's naval career spanned four years at the Academy, over eight years of sea duty and three years of shore duty. His first assignment was aboard the USS Des Moines then in Reykjavik, Iceland. His assignment was Assistant Division Officer in a gunnery-deck division. The Des Moines was the flagship for the 6th Fleet and was assigned to the Mediterranean Sea with its home port at Villefrance.  He earned the Occupation Medal (European Theater) before returning to Norfolk, Virginia and then a second deployment in the Mediterranean.
In 1955 Frank was ordered to Submarine School in London, CT. After the six month course he and others on the Sonar Training Team were assigned to the USS Requin at Norfolk. While engaged in "wolfpack" training with another sub, the two subs collided while submerged, but no injuries occurred. The next three years were devoted to supporting antisubmarine ships training in the Atlantic and the Mediterranean. Duties included assignments as Assistant Engineer, First Lieutenant, Operations Officer, and Supply Officer. During that time Frank and his shipmates were trained in escape procedures using a 100 foot tower filled with water. In 1959 Frank earned the Dolphins insignia which confirmed him as a qualified submariner.
He was then assigned to the Navy Combat Information Center School in Brunswick, Georgia. While there he acquired valuable teaching experience and taught senior officers about submarine tactics. While teaching these senior officers, he discovered that it was not wrong to ask questions. After two years at the Center he decided to leave the Navy as a Line Officer. His request to transfer to the Supply Corp was approved and he was able to stay in the Navy. He was assigned to the USS Biddle, a newly commissioned ship operating out of Norfolk. During the Cuban Missile Crisis the Biddle was ordered to the Caribbean to intercept Russian ships. One such ship was intercepted without serious confrontation. The Biddle was then designated as a multilateral force ship which would accommodate a crew of several allied nationalities. Frank was relieved as supply officer and left the U. S. Navy in 1964. As he left the Navy, he reflected upon his mother's prediction that he would "travel a great deal over the ocean."
While rendering service to his country in the Navy, Frank also was able to establish a family. While stationed at Norfolk he courted Shirley Seal, a nurse at the Medical College of Virginia and they were married in April of 1954 in the Chapel at the Naval Academy. The couple was unable to have a honeymoon, but she was able to visit him at many of his ports of call in the Mediterranean. The couple's first child, John, was born in Annapolis in 1956, a daughter, Lesley, was born in Norfolk in 1958, and a second daughter arrive in 1960 in Brunswick Georgia.
Following the end of Frank's naval career, they went to Baltimore where Frank became a student in the Mathematics Department. After a year of school he was employed with the Black and Decker Company for over four years and served as a production engineer with the firm.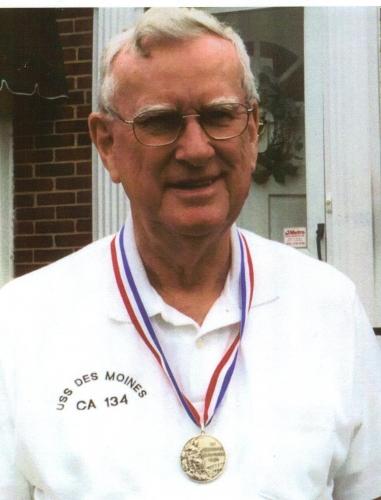 When the firm downsized Frank was laid off. While looking for employment, Frank was teaching a Sunday school class when a professor at Towson State College suggested that he would make a good teacher. This advice was heeded and Frank secured a teaching certificate, embarked upon a 20 year teaching career, and taught math at the junior and senior high school levels. His first school was a junior high school attended by the son of Madeline Murray, a national known opponent of prayer in the public schools. Frank retired from teaching in 1991. Meanwhile, his wife Shirley took a refresher course and then resumed her nursing career.
The years in Baltimore were filled with challenges for the Shakespeare family. They managed to raise three teenage children while both were working. Frank attended night school and earned a Masters Degree in Secondary Education. He also became involved in Scouting and both he and his son were initiated into the Order of the Arrow at the same time. Shirley worked as a nurse for more than 18 years. These years were also filled with rewards. At age 65 Frank carried the Olympic Torch in Wilmington Delaware and attended a reunion with his Gold Medal rowing team in Atlanta in 1996.
Frank stated in 2012: "Experiences as a veteran in the service of our beloved USA has endowed me with an appreciation way beyond anything I could have imagined. In reflection, those old days spent in being frugal, in the victory garden as a youngster, and later in the U. S. Navy have indeed built a foundation of endurance, patience, confidence and fortitude. Too, I can appreciate the experiences in industry and education. All of this has given bonding experiences with family, acquaintances, and our Creator. Fortunately, we have never been directly in wartime conflict: however there have been hills and valleys that presented real challenges. Serving my country and my God has been an honor beyond any words that I can express."
As told to Bill Blair