Veteran Gene Drifmeyer
Gene Drifmeyer
Eugene (Gene) Leonard Drifmeyer entered this world on March 12, 1928 in Cincinnati Ohio. His father was a bank clerk who sometimes walked a considerable distance to his work to save the bus fare of ten cents. Gene's mother died when he was only six years old and he was an only child. The experience of the Great Depression emphasized for him the need to get a job. Gene attended a Lutheran school and in a confirmation class at the Lutheran church he met Helen, who would later become his wife. He was 12 years old when Pastor Sydow,  the Lutheran pastor, called a group of young people together and announced that Pearl Harbor had been bombed. The Pastor predicted that difficult days were ahead.  Days of gloomy headlines followed and Gene remembers the excitement which followed Jimmy Doolittle's raid over Tokyo.  Gene displayed musical ability in school which he may have inherited from his mother and, at 14 years old, was awarded a scholarship to the Cincinnati College of Music where he studied clarinet.  During the War, he heard the U. S. Army Band play at a War Bond Rally in Cincinnati and was very impressed.
In 1927 the U. S. Army Band had been formed by the efforts of General "Black Jack" Pershing of World War I fame. The General had heard the French and British bands and believed that the United States also needed such an organization.  After the band was organized it was later called "Pershing's Own." It was to serve the Nation's Capital along with the Navy, Marine, Air Force, and Coast Guard bands.
After high school the draft loomed. Gene took the train to Washington and auditioned for the U. S. Army Band with the intention of enlisting for three years and then attending college on the G. I. Bill.  He passed the audition and was told that a position would be available since a member was going to leave the band.  However, the individual did not leave but reenlisted.  Therefore, Gene enlisted in the U. S. Army Air Force in 1946 and completed basic training at San Antonio, Texas.  Gene was then, temporarily, assigned to the Bolling Air Force base in Washington, D. C.  While awaiting assignment after basic training, he requested and was granted permission to go across the Potomac River to Ft. Myer, to be interviewed for the Army Band again and this time he found a position available.  He was transferred from the Army Air Force to the U. S. Army and began his career as a military musician.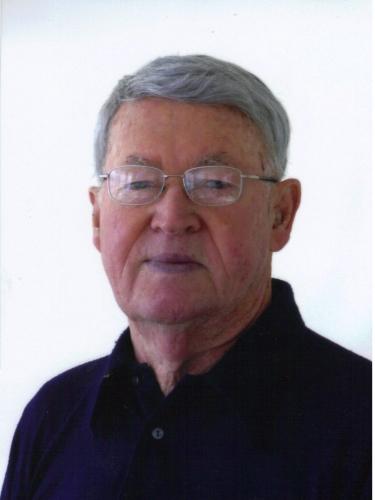 At first he could not determine how he, simultaneously, could march in step, read music, play, and be aware of what was happening. He soon learned not only the discipline required for his work, but also the precision needed to perform at the level demanded from the band. He recalls many hot days on the parade field and numerous parades, ceremonies, recordings, and concerts.  Gene remembers many of the conductors and their assistants including Lt. Colonel Gill Mitchell who had enlisted as a Sergeant and subsequently, formed the Herald Trumpets who still perform with the band.
As a member of the band Gene performed in inaugural parades for Presidents Truman, Eisenhower, Kennedy, Johnson, Nixon, Ford, and Carter. He especially remembers the parade for Kennedy which took place in five degree temperatures. During the cold wait, the band found that their instruments had frozen and would not work properly. After much thought they decided to let the trumpets freeze in a chosen valve position. Then with trumpets serving as bugles and with drums, the entire band was able to make an excellent presentation.  He also played in President Kennedy's funeral and recalled the many somber faces along the route. At the graveside, Keith Clark, who was best man in Gene's wedding played taps with a "tear", a musical term which notes a unique blemish – it was befitting this sorrowful occasion.  Also, the band was on the platform when Martin Luther King Jr. gave his "I Have a Dream" speech at the Lincoln Memorial.  Later, after King's assassination, the band along with all soldiers at Ft. Myer, was placed on alert.
His affiliation with the band enabled Gene to perform with many famous entertainers. These included Eddy Fisher, Steve Lawrence, Jack Benny, Victor Borge, and Rosemary Clooney. On several occasions the band was conducted by Paul Hindemith and Morton Gould. The band played for many state occasions when foreign dignitaries visited Washington and at various receptions at Fort Myer, Fort McNair, Bolling Field, and the White House. On one occasion General Westmoreland personally thanked Gene for his performance.
As would be imagined, many humorous things happened at some of the performances. While playing the National Anthem at the old Watergate Barge near the Lincoln Memorial, a canoeist tried to stand in his canoe and it overturned and he found himself in the Potomac River. While playing at a funeral in Arlington Cemetery, a bass drummer, standing at "parade rest," carefully placed his drum on the ground to rest his back. Suddenly, the drum started rolling down a hill in the Cemetery and the lanky drummer followed in hot pursuit leaping in the snow over the grave markers until the drum lodged against a tree. He retrieved the drum and humbly and respectfully returned to his position while the entire band continued to honor with dignity, the solemn occasion.
Gene retired in 1980 after more than 33 years of service in the band as a Sergeant Major. During his service at Fort Myer, he was able to live off base with his family.  He then enrolled in Northern Virginia Community College and earned an Associates Degree in Photography.  He worked as a professional photographer in Fairfax County.  He and his wife, Helen, had six children, two girls and four boys.  Two of his sons are retired Lt. Colonels and two granddaughters are physicians in the Army and the Navy.  During retirement, Gene and Helen purchased a 3 acre home site on the South Fork of the Shenandoah River near Luray.  After enjoying twelve years in their delightful new home, upon turning seventy, they opted for an easier lifestyle.  They carefully studied retirement communities and made the decision to move to Sunnyside in Harrisonburg, VA, where they now live.
Gene maintains contact with the U. S. Army Band that has been such an important part of his life and was honored at a recent concert by the band. He declares a deep appreciation for the Lutheran Church and those who served in harm's way during World War II and subsequent wars.  In reflecting upon his life, he notes that it is important to identify your talents in early life, secure an education, and then seek to excel in the areas where your talents lead.
As told to Bill Blair