Veteran Haywood France
Haywood France
When interviewed about his military service, Haywood did not speak of his southern roots, and whether this might be of any importance to him. But his speech,  his way of expressing himself, his modesty and his deep honesty certainly showed evidence that some of the best of the old south survives.
Haywood was born in Raleigh, North Carolina on November 15, 1924 to Douglas Carter France and Rebecca Taylor France,  the youngest of three children, with one sister and one brother.  His dad was a lawyer, but because of the depression, his dad's law practice failed when Haywood was very young, and their home was lost.  The family then moved to a farm in Virginia near Charlottesville where Haywood had stayed for a couple of summers earlier due to a polio epidemic in North Carolina.  He said that he felt immediately comfortable with that move because of his previous time there.  He remembers with pleasure, life on the farm:  milking cows, working in a garden, hiking, camping in the mountains, and being with fellow boy scouts.  He had an altogether wholesome and happy childhood.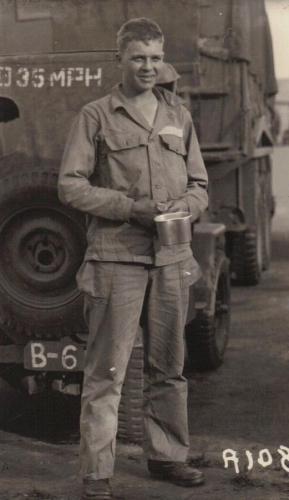 In high school, he was on the basketball team but he says his main job was keeping the bench warm. He graduated from Lane High School in Charlottesville in May, 1942 at age 17  and enrolled in Virginia Military Institute that fall.  After only a couple of months in VMI,  he enrolled in the Enlisted Reserve Corps (ERC) which was supposed to allow him two full years in college before he was drafted.  Regardless of the promises the recruiter made, he was inducted into the army in March, 1943.   Soon after he turned 18, he found himself on the way  to Fort Meade, Maryland, and then to Fort Bragg, North Carolina for basic training.
Haywood's military service during World War II brought him into some of the most intense fighting of the war in Europe. In July, 1943 he boarded Queen Mary which had been made temporarily into a troopship, and was sent to the port of Greenock, Scotland which was the only port in the area deep enough to accommodate her.  From there he was sent to the Birmingham Replacement  Depot and assigned to the 190th Field Artillery, and then moved to the vacation resort  Bude on the southwest coast of England.  There he became a fire direction specialist responsible for surveying gun positions and calculating fire commands.  In May, 1944 he was sent to a tent camp near Falmouth and on June 5 he boarded a LST headed for the coast of France.  They landed on Omaha Red Beach on June 7, in support of the 16th Infantry of the 1st Division.
His main recollection of D-Day is seeing the sky blackened with the huge number of aircraft in support of the invasion. Also,  as far as eye could see in any direction out to sea there were ships of all kinds.  The warships were firing their big guns, and he could see some of the big shells tracing across the sky.  Barges and old ships were being towed  near the beaches and exploded to sink and form breakwaters. It might have seemed like a lot of confusion but the invasion was well planned down to the least detail.  Haywood says that it is hard see how  anyone could hope to withstand that force.
The soldiers going ashore were given maps to direct them where to go after achieving a landing, and they were supposed to be there within a day. But Haywood says that the map was virtually useless and it took them ten days to get to their designated position.
He tells a humorous story of something that happened during his time in Europe.  Two well dressed men knocked at his mother's door where only she and his sister lived because all the men and his mother's older sister were in the service.  This deeply troubled his mother since she felt the men might have bad news about one of the family.   They asked if Haywood lived there, and when she said yes, they told her that he had not registered for the draft and they were looking for him.  If she knew where he was, and didn't tell them, she would be liable. She told them that she did know, and asked them if they would promise to bring him in if she told them where he was, and they agreed.  She told them that as far as she could reckon, he was about 20 miles south of Aachen, Germany.
Haywood went on to fight in the Battle of the Bulge, and remained with the 190th Field Artillery throughout the European campaign.
When the war was over in Europe, he lacked only one point being eligible for discharge, so he began to undergo preparation to be sent to the Pacific for the invasion of Japan. However, the war there ended before he had to go, and with the surrender of Japan, he received enough points to obtain his discharge in September, 1945.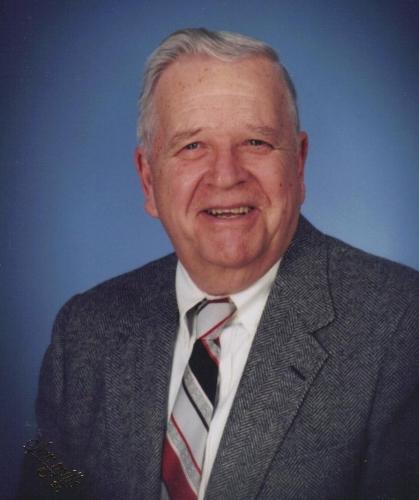 After the war, he entered the University of Virginia for one year, kind of recapping what he had at VMI during his year there. The next year he returned to VMI where he finished with a BS degree in 1949, and was commissioned a 2nd Lt.  He re-entered the University of Virginia after finishing VMI and received an MS in Chemistry in 1951.  After that he went to work for Union Carbide in Charleston, West Virginia as a research chemist and he worked there for 35 years until he retired.
In June, 1952 he married Kendall Morris of Standardsville, Virginia. Kendall died March 1, 2011 after only two years  at Sunnyside.  In their marriage they were blessed with two sons,  Haywood Jr. and John. He now has seven grandchildren.
We are especially beholden to Haywood for defending our nation in the hard fought fight with the Nazi regime of Germany during World War II, and we are glad to have him with us here at Sunnyside.
As told to Dick Young