Veteran John B. Watlington
John B. Watlington
Unlike many residents here at Sunnyside who came from distant places, John still lives near his old home town; the small, coal mining town of Midlothian, Virginia where he was born at home on May 17, 1927.  His life began about the same time as the beginning of the great depression, and  John learned early the meaning and value of work.  His main job during his childhood years was mowing grass for neighbors, which his mother lined up for him.
John, also known as JB, remembers several people in addition to his parents who were important to him for his development during those early years. One especially helpful person was his sixth grade teacher, Miss Hudson.  WW II was already in progress in Europe when he was only 12 and Miss Hudson  kept her students informed about how the war was progressing.  JB says that she taught her students more than school subjects; she taught them about life and values that are important.  Another person important to JB during those years was his Aunt Alyce who lived with his family for a time when JB was small and helped raise him.  After he grew older,  he would go visit  her during the summer months.
He graduated from Thomas Jefferson High School in 1944, and immediately enrolled in Virginia Tech with the intention of majoring in chemistry. But a conversation with his Dad caused him to enlist in the Navy before being drafted.  His Dad who fought from foxholes in WW I said to him: "JB, don't join the Army.  You don't want to be in one of those foxholes." So JB joined the Navy on June 1, 1945.
He was sent to Camp Perry, Maryland for boot training, and he has fond memories of humorous things happening while he was there. He said most of the recruits that late in the war were either right out of school, or close to the maximum age of 39.  Once during a close order drill,  the CPO gave the order "About face" when they were marching forward and he promptly reversed directions.  But the sailor behind him, an older man of Polish descent who did not understand English all that well, kept marching forward, and there was a collision.  JB started laughing but the CPO did not think it was all that funny, and he ordered JB to do three laps around the field.  Another humorous incident occurred when he and some friends went to town.  When they asked a lady where the town was, she answered, "You are standing in it."
At Camp Perry he made an effort to enter the V-12, an officer training program. He felt he had a good chance for it since he had taken ROTC both in high school and at Virginia Tech. He passed the test for this officer training and would have been able to go except there were just too many who passed and were eligible.  He was among those who were eliminated. Instead of officer training, he was sent to the Naval Operations Base in Norfolk.
JB was given an honorable discharge from the Navy about a year later on August 5, 1946, without having been on any sea duty. Most of his work in the Navy was on kitchen duty or guard duty.
After the Navy, he entered Virginia Tech and then on to the University of Richmond under the GI Bill where he graduated after majoring in history. When he finished college he worked for a time with the Richmond, Fredericksburg and Potomac Railroad, and then with a trucking company doing business in Canada and the southwest.  He went on to work with the government for 27 years in redistributing goods in various depots.  During this time he earned a Master's Degree in Logistics from the Florida Institute of Technology.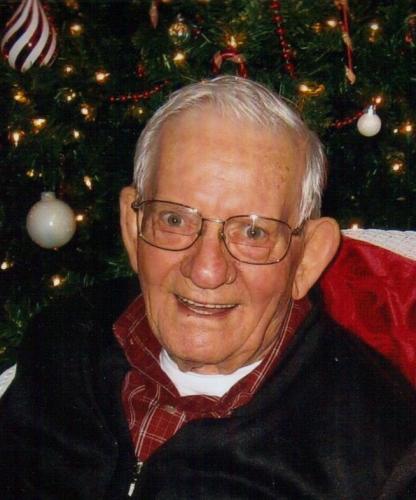 Family life, church, and travel have always meant a lot to JB. In 1952, the same year that he moved to Richmond to live,  he married Jean Spillman. They have two sons, John, Jr. and Philip. Love for family might be partially responsible for his living in this retirement community.   Here, he and his wife Jean enjoy life together,  and here also are Jean's brother Earl and his wife Marilyn, Jean's sister Betty Young and her husband Bill,  and Jean's brother-in-law Willard Burton.  In the church, JB has served as Sunday School teacher, deacon and elder; all the offices that Presbyterians have to offer other than minister.
To satisfy his urge to see the world, he has traveled extensively not only in the United States and Canada, but also in England, Ireland, Scotland, Germany, Austria, and Switzerland. As this is being written, he is planning a trip to Hawaii.
We want to thank JB for his solid citizenship, and his willingness to serve our country in time of need.
As told to Dick Young