Veteran John Thompson Hayter, Jr.
John Thompson Hayter, Jr.
To know Sam Hayter, is to like him. In some ways he seems to be a man of steel; he knows what he believes and where he is going.  He is not easily convinced to take another direction.  But he never shows animosity or dislike to those who differ.  Forbearance and temperance seem to be at the center of his life.
Sam got his start in life on March 4, 1924 in Abingdon, Virginia with the name John Thompson Hayter, Jr. Like many who were named for their father, John soon began to be called by an alternate name, "Sam,"  and this name has followed him since.
He had two sisters, one two years older and one six years younger. He describes early life as pleasant and without worries, living on a two hundred acre farm in southwest Virginia which had been in his family for more than five generations.  He is proud of his direct ancestor Israel Hayter who fought for American independence and was wounded in the Battle of King Mountain during the Revolutionary War.  He says that even though he grew up during the great depression, he can remember no incidences when he was troubled by it, though he is sure there must have been times when it was somewhat troubling to his dad.
During both elementary and high school Sam attended school in town rather than the smaller two room county school nearby. He was able to do this by living with his two maiden aunts in town during the week days and at home during weekends as well as during the summer.  He said his aunts were very pleasant to live with and kind to him. He remembers good and happy experiences both in school and in the Sinking Springs Presbyterian Church which he attended.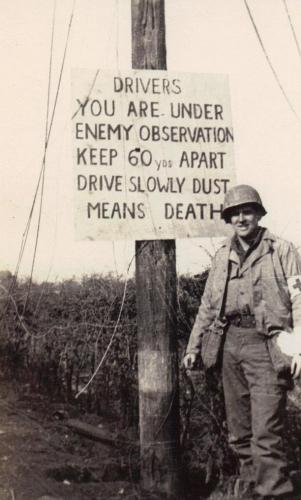 Immediately after graduation from high school in 1941, Sam enrolled in King College, a Presbyterian institution 15 miles from home across the state line in Bristol, Tennessee, with the intent of becoming a Presbyterian minister.  WW II began a few months after graduation with the advent of the Pearl Harbor attack, but because Sam was enrolled in King College with the stated  intention of becoming a minister, he was not subject to the draft.  After two and one half years of college, Sam made the decision to do his "bit" (his modesty shows through his use of the term) for his country, and he enlisted in the Army in February, 1944.
Why the Army? Sam seems to be first of all a land person and not a sea person.  Land seems to be more suitable to him.  He took basic training at Camp Swift, Texas, and then training as a medical corpsman at Lawson General Hospital, Fort Oglethorpe, Atlanta.  By November, 1944 he was ready to be sent to the European Theatre of Operations, where he served as a medical corpsman attached to a Signal Corps Unit.  Sam says this work did not involve him in actual combat but he was not far from it.  He and other medical corpsmen attached to the unit cared for the medical needs of his Signal corps unit.  His unit followed the combat troops across western Europe, and reached as far as Hanover, Germany on the way to Berlin, before the European war ended in May, 1945.
The one most significant and important thing that happened during the war, as for as Sam was concerned, was the final surrender of Japan and the ending of the war.   This was especially important to him because it canceled his orders to be transported from France to the Japanese Theatre of War, which had already been put into effect.  Having sufficient number of points, Sam was discharged from the Army in October, 1946, under the normal discharge procedures, after 27 months of military service.
The picture of Sam at the above right was taken in May 1945 "on the road to Berlin," located along the west banks of Rhine river, near Wesel, Germany, before the combat troops had crossed the river.
After Sam's military service he re-entered King College under the GI Bill, and continued on to finish the remaining three semesters for a BA degree. He worked one summer in a church at Burkes Garden near Tazewell, Virginia as a student intern, and then entered Union Theological Seminary to take the final step in education  toward becoming a minister.  His two summers of Seminary Field work were in Cedar Bluff, Virginia and the Plaza Church, North Carolina.  He received his Bachelor of Divinity degree in 1951, and was ordained to the gospel ministry on April 15, 1951 by the Wilmington Presbytery in North Carolina.
Sam's first charge as a regular ordained minister was in the Kenansville and Hullsville, North Carolina churches.  He went on to serve churches in Fincastle, Virginia, and the Springhill Church near Staunton.  During this time beginning in 1960,  he worked six years during summers at Camp Massanetta  as Director of Junior Camp. Following  fourteen years in the Villamont Presbyterian Church near Roanoke, his last regular work as a minister was in Warm Springs, Virginia where he retired in 1989.
When Sam was Pastor at the Fincastle and Mt. Union Churches, he met Virginia Kyle Scott  and married her on April 4, 1959.  Together they have three children: John, III, Scott, and Nancy.  After retirement, Sam and Virginia moved to Pierson, Florida where they lived for six years and then to the Massanetta Springs Cottage Community.  There he became involved in extensive volunteer service at the Massanetta Springs Camp and Conference Center. They moved into the Sunnyside Retirement Community in 2006.
A lasting measure of Sam's work in the ministry was an honor accorded him by the Springhill Presbyterian Church in 2010. 50 years after he began his work there he was appointed Pastor Emeritus.
We are grateful to Sam for his many months of service to his country, and many years of service to God and His church.
As told to Dick Young