Veteran Richard L. Williams
Richard L. Williams
Richard Williams, though a quadriplegic because of a spine injury, is a man of energy, industry, and intelligence who rendered significant service to his country throughout his working years. Only one thing seems to  upset his calm demeanor;  that is, when he thinks of malfeasance in office in high places of government.
Richard was born in Licking County, Ohio in 1934, and grew up on farms and in small towns. He entered Ohio University in 1952 and helped pay his way through college by working on road construction during summers, and in a print shop during the school year.  He joined the Army's ROTC while in college, and  his leadership qualities soon became apparent; he became not only the university's drill team leader , but also  the Cadet Colonel (the top cadet officer) during his senior year.                                
On graduating in 1956, he was commissioned in the Infantry and served in the 82nd Airborne Division, the 1st Cavalry Division (Korea), the 145th Combat Aviation Battalion (Vietnam) and other military units.  Possibly influenced by his dad's work with Curtiss Wright Corporation or his cousin's work as a Tech Rep for Helldivers aboard a U.S. carrier, he became a Senior Parachutist and a Senior Army Aviator (fixed wing and helicopters).  Asked if he was ever in combat, he answered in a rather droll way, "Well, I suppose that landing in the middle of a firefight with bullets flying around was combat."  He explained that he and another pilot would take turns about with each other, one day going out to determine the next day's operation, and on alternate days they would carrying out their mission.
   He and Donna were married in 1958 after she graduated. They made many moves during the early years of their marriage due to his different military assignments and military schools.  During that time, in 1964,  their daughter Kathryn was born to them.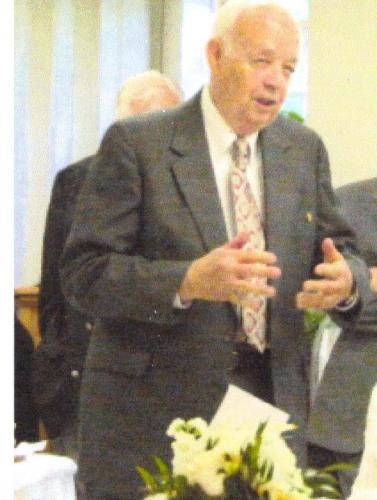 After his tour in Korea ended, they moved to Washington in 1968 near George Washington's Mount Vernon estate, where they lived for the next 40 years.   In addition to his military duties, his family was very active in their neighborhood United Methodist Church where Richard undertook to teach Sunday Bible classes year after year.
  Richard spent the last eight years of his military career in Washington with various assignments including the Pentagon, the Industrial College of the Armed Forces, and the White House. When working in the Office of the Secretary of the Army, his duties involved cost management of the Army's major weapons systems. There he had many opportunities to travel and lecture on weapon system management.
One of his favorite stories happened when he was lecturing to an auditorium full of Air Force cadets at the Air Force Academy in Colorado Springs.  The Commandant's secretary came on stage and informed him that he had a call from the White House;  they wanted to speak with him right away. He told her to tell them that he was busy and  would call them back later. She was very concerned and asked, "Can I do that?"  He assured her that it was all right and that they could only blame him, not her.
That call led to his reassignment. He was detailed to the Office of Drug Abuse Policy in the Executive Office of  the President with duties including the negotiation  of Congressional acceptance of the President's Reorganization Plan Number 2 of 1973.  Considerable negotiations proved successful and President Nixon thanked Richard for this work..  After President Nixon resigned, President Ford asked the vice president to oversee the drug enforcement policy, thus giving Richard the opportunity to work with Vice President Rockefeller.
After two years at the White House, he was selected to attend the Industrial College of the Armed Forces at Fort McNair, and then after graduation assigned back to the Pentagon and to the Army's Office of Chief of Staff for Legislative Liaison.  His duties were to coordinate the Army's interests with the newly formed House and Senate budget committees.  Having had considerable contact with the General Accounting Office and the Congressional offices during his previous assignments, this assignment was particularly interesting to him.
He retired from the Army in 1977 after 21 years military service and having accrued about 2,000 hours of flying time. Immediately after military retirement, he was appointed by President Carter to the Drug Abuse Policy Office in the Domestic Policy Staff at the White House. One of  first duties was to create and manage a comprehensive interagency study of national border control.  He also was responsible for monitoring and advising on the federal budget for all drug abuse activities.
When President Reagan took office, he was asked to stay and assist with the operating budget and drug abuse and computer matters for the new Office of Policy Development (OPD).  During this period, he had numerous opportunities to testify before Congress on drug and budget matters.  He retired in 1988 at the end of the Reagan Administration.
When asked to continue as a consultant, he agreed to do so (for another four years). He finally turned in his White House pass and departed the grounds in 1992. In addition to 21 years of active military service, he is proud to have had the honor of working at the White House for five presidents in both Republican and Democratic administrations.  Each administration had a very different personality and each was sincere and attempted to serve our nation in the best way possible. He says he is proud to be a small part of our nation's history.
He lauds his wife Donna who supported him through their 54 year marriage and kept him on the right track despite continuing absences, long hours at work, and trying conditions.  During this time she also taught elementary school, raised their daughter, and continued in church activities.
 They moved to Sunnyside Communities in the Spring of 2008 and he injured his spine in a fall later that year.  He says that Donna is a special blessing in taking care of him as a quadriplegic.  They both stay active and he continues to teach from his wheelchair whenever possible.
His final statement which sums up his feeling about his country:
God bless the United States of America and may the government of our great Nation long stand as "of the people, by the people, and for the people."  
To which we say AMEN, and express our thanks to Richard for all the service he has rendered to our nation.
As told to Dick Young