Veteran Robert "Bob" Goshorn
Robert "Bob" Goshorn
President John Kennedy once quoted an ancient proverb: "Success has a thousand fathers, but failure is an orphan."   Robert "Bob" Goshorn must have felt a kinship with success;  he remembers growing up with a thousand mothers.
Bob was born on June 1, 1927 in Newton Hamilton, Pennsylvania, the youngest son of Chalmer Holmes Goshorn and Eva Marie Steele. Being a child of the manse, Bob never lacked for attention in the small community where he grew up. He said that he couldn't get away with anything he did without the whole community knowing it.  Once he pretended to be smoking a cigar and it looked real as his winter's breath looked like real smoke.  Before he could get home to tell his mother about it, a neighbor lady was on the phone telling her that she saw Bob smoking.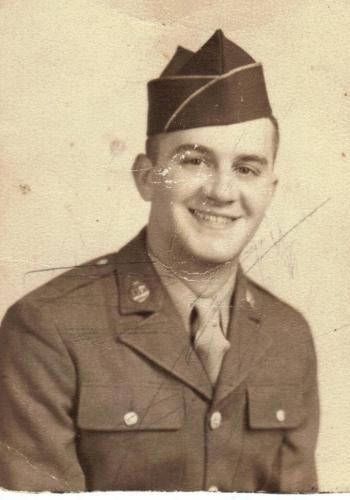 Bob's dad seems to have been the real hero after whom he tried to pattern his life; certainly his dad's devotion to Christ and his vocation as a Presbyterian pastor must have influenced Bob in his own calling.  Also,  his dad's service in WW I which found him on the front lines on Armistice Day November 11, 1918 had a good deal of influence on Bob's decision to enter the military during World War II.
Both Bob and his dad loved the coal mining town in Fairfield County, Pennsylvania where Bob spent his early days, but his mother was far from enthusiastic about living there.  Even Bob easily called to remembrance the affect of the deep depression on the town:  the hard labor which the miners experienced in their work, with faces darkened with coal dust when they returned home in the evenings, and the numerous cave-ins of the mines which took the lives of many.  But the people, they were the salt of the earth.
Bob's chief interest during his high school days was his saxophone, which he learned to play while in grade school. His skill with this instrument and his love for music continued to be a large part of his life in high school, and even  impacted his life in the military later.
On finishing high school at age 17, Bob matriculated in Waynesburg College (now a university) in Western Pennsylvania. The year was 1944, and WW II was still in progress but about to wind down.  Bob had a deferment because he intended to enter the ministry, but he gave up his deferment after one year so he could be drafted into the Army.  His dad had just accepted a call to the Presbyterian church in Lonaconing, Maryland, and Bob helped them make this move before he left for the Army.  This proved fortunate for Bob because at his dad's new church he met the pretty young organist Jean Shirley Milford.  They began a correspondence that eventually led to their marriage on August 28, 1950.
Bob had entered the Army near the end of the war in Europe, and soon after his basic training, he joined hundreds of thousands of other soldiers for special training for the war in the Pacific, with the ultimate goal of invading Japan. At that time, Japan showed no signs of weakness, nor any desire to surrender.  Bob, probably along with most of the others who were preparing for this struggle, is convinced that Japan would never have surrendered, and there would have been a tremendous loss of American lives  had it not been for the atomic bomb.
He spent 11 months in Europe in the Army of Occupation, and his main work was with the 427th Army Band.  He not only played his saxophone in the band, he was also the supply sergeant for the band.  He had many opportunities for sight-seeing, but was happy to end his army career when he had earned enough points for discharge.
One of Bob's happiest memories during that time occurred on May 12 , 1946, when a victory parade was held on Champs Elysee in Paris. People were there by the thousands cheering their freedom from the Nazi who had held them in virtual bondage for a number of years.  Bob was in the military band at that time, and marched in the parade.  It was especially meaningful to him because General DeGaulle and Prime Minister Winston Churchill were in the reviewing stand. The next happiest memory was on December 12, 1946 when the ferry  boat that was bringing him home passed by the Statue of Liberty.
As the ferry passed by the famous statue, it paused for a few minutes for the soldiers to get a good look, and Bob heard one of his buddies, "Hillbilly Bill," say "Mam, if you're to ever see me again, you'll have to turn around."
After Bob returned home, he went back to Waynesburg College for his final three years leading to a Bachelor of Arts Degree. Wishing to save the time he had earned under the GI Bill for his seminary education, he did all kinds of work to earn his way through.
After graduation he  entered Union Theological Seminary in Richmond, and served in Home Mission churches  until he graduated in 1952 with a B.D. degree.  He continued to work with these churches for a few more years and then went on to work in larger and more established churches. In 1977 he earned a Doctor of Minister degree at the Union Seminary which further strengthened him in the ministry.
Bob and Jean married while he was in the seminary and they were blessed with three daughters, Betty Marie, Pamela Sue, and Silvea Lea. Bob retired from the ministry in 1990, but continued to do supply work as needed.  During his time of retirement he helped to organize the Pines chapel near Greenville into a church, called the Pines Chapel Church.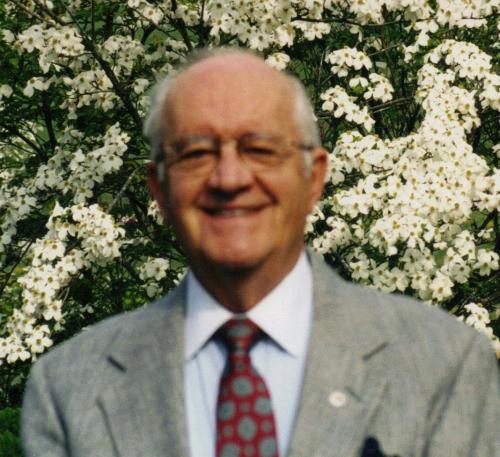 We express our appreciation to Bob and Jean for their work in the church which continues to this day, and for his service to our nation in its time of need.
We close with a benediction which is Bob's favorite, and which you will hear him repeat at every opportunity.
May the road rise to meet you; May the wind be always at  your back. The sun shine warm upon your face; The rains fall  soft upon your fields, And until we meet again, May God hold you in the  hollow of his hand.
As told to Dick Young