Veteran Thomas McNeill
Thomas McNeill
One would immediately recognize Thomas "Tom" McNeill as a friendly, outgoing, "People Person." Throughout the whole working part of his life, he dealt with people.  He learned early that one of the chief things that most people like is to be recognized by their name,  so he sharpened his memory of names to the extent that he can still recall most of the names of people he has known.   Tom has been able to enjoy a good and successful life in large part by knowing and using this secret.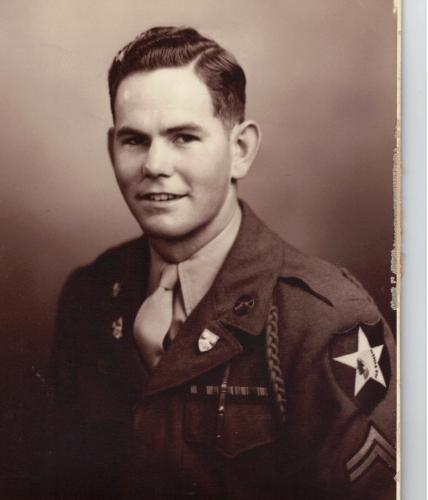 Tom was born March 13, 1926 in Old Field, West Virginia where his family lived on a farm. He was the youngest of four boys in a family with no girls.  Despite the onset of the great depression which was to last as long as Tom was at home with his folks, Tom had a happy and useful life during his early years.
When he was age twelve, his family purchased a hotel in Moorefield, West Virginia and moved there to live.  The hotel became for them both their home and their place of business.  Soon after the move, his Dad died.  The two oldest brothers were soon at the age to be leaving home so most of the work in running the hotel was left to Tom, his mother, and his next older brother.  Tom said that he made up beds, washed dishes, took care of laundry, mopped floors;  you name it, he did it.
He graduated from school in 1945 and as soon as he reached 19 he was drafted into the U. S. Army. He was sent to Fort McClelland, Alabama for basic  training, to be converted from a civilian to a soldier.   From there he was sent to Fort Lewis, Washington, to be in the 23rd Infantry of the Second Infantry Division, known as the "Indian Head" Division because of its insignia.  He served as Squad Leader and Platoon Sergeant until he was honorably discharged in 1947.
Tom said that his Dad had a friendly and outgoing personality, and he learned a lot from his Dad about how to get along.  With his acquired skill in memory and by practicing skills learned from his Dad,  he began his civilian career by getting a job in a new car dealership.  This kind of work seemed to be just right for his personality; he soon became a sales manager there.  His next job was to work with a general insurance agency which he later purchased.  He worked in that agency for twenty seven years, and in the meantime his success was assured so he purchased two other agencies.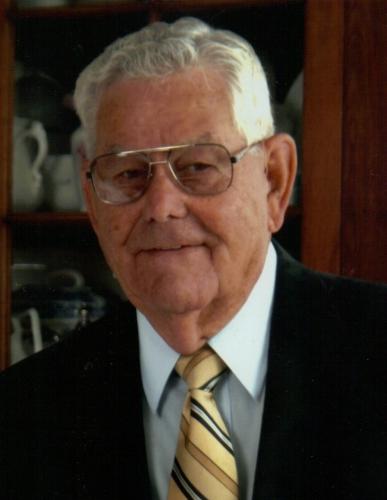 During his working years Tom was recognized in many other areas as well. In the Presbyterian Church in Moorefield, he was selected to serve as Trustee, Deacon, and Elder.  In the Masons, he was chosen to serve as Past Master of his Lodge.  In the Lions Club, he was elected to serve as President.  He also served on the Board of Directors of the Capon Valley Bank for 47 years, 12 years of which he was Chairman. He sold his agencies in 1988, and resigned from the Board of Directors in 2010.
We applaud Tom for his energy and hard work in advancing in his business, and for his activities in the church and civic organizations. We express our appreciation to him for his willingness to serve our nation in the U. S. Army.
As told to Dick Young >