Veteran Whitney C. Scully
Whitney C. Scully
Whitney was born 14 February 1930 in Chicago, Illinois. He remembers that early in life he learned to enjoy work. His father owned a foundry business and because of the depression his mother helped to pour hot metal in the family business. Whitney was given small jobs and soon realized that he liked "work." His father lost his business, but was able to secure employment at another foundry. Whitney's mother taught him to do every task well. He was given household chores to do and his mother, who was a perfectionist, demanded that he do them perfectly. By age ten he was securing work in the neighborhood and shoveled snow, mowed lawns, and fired the apartment house furnace. He liked the work and soon realized that it was even more fun when he received pay for it. His mother helped him understand that he could make money work for him.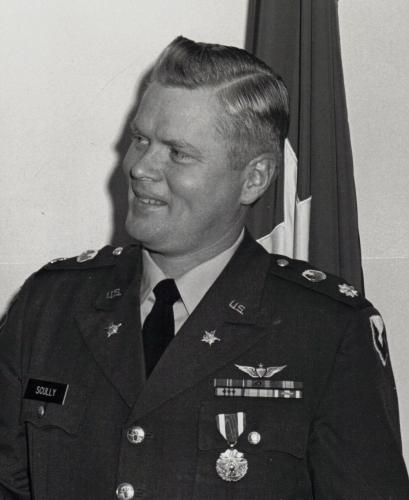 During World War II, Whitney collected scrap paper, metal, and rubber for the war effort. He also played in a drum and bugle corps and sold war bonds. When 13 years old he was talked into selling the Saturday Evening Post and soon he was the neighborhood manger of about 25 other boys who also were selling the magazine. This experience reinforced his realization that he loved to work and established a lifelong pattern. His father was very patient in teaching him how to use hand tools and he was able to learn the use of power tools at a YMCA shop. While he was not athletic, he did place second in an underwater swimming contest. Yet work retained its fascination for him and he was the youngest individual to work for the Victor Adding Machine Company which was making parts for the Norton bomb sights that were use on B-17 bombers.
Young Whitney's family life was centered on his grandmother. The extended family met at her home on Saturday evenings and he enjoyed being there and helping her make special cake for the family gatherings. As a child he enjoyed talking with aunts and uncles about their childhoods more than he enjoyed playing with his young cousins. Because of their special relationship, his grandmother gave him the recipe for her special Christmas cookies before she died and he had to promise not to share it with others in the family.
Whitney entered the U. S. Army through ROTC training at Iowa State College where he graduated in 1955. He then completed the Basic Office Engineer Course at Fort Belvoir, Virginia. It was the beginning of an illustrious twenty-year military career which consisted of a variety of assignments and responsibilities. He saw duty in Greenland, Vietnam, Germany, and the United States with a variety of units. He was a Platoon Leader, a Company Commander, a Battalion Adjutant, Operations Officer, and Commander. Whitney was a Research and Development Officer in the Army's first computerized Tactical Fire Direction Control System. He was an army aviator qualified in both fixed wing and helicopter aircraft and flew combat missions in Vietnam with the 1st Air Mobil Division. He also was a member of the U. S. Delegation to the Four Party Joint Military Commission that assisted in deliberations with the North Vietnamese. While in the army he was sent to American University in Washington where he earned a masters degree with majors in Management Information Systems and in Research and Development Management.
Such a varied career has produced many memories and insights. When a young 2nd Lieutenant, Whitney recalls being told by his First Sergeant that a private with ten years service was late returning from leave and was being held in an Alabama jail for 30 day for drunkenness. As Company Commander, he called the Sheriff, told him that the private did not drink, and indicated that if he was not released, he and his company would come to his town. The private was released and an extended conversation with him indicated that he was unmotivated and was unable to meet requirements for promotion. Whitney enlisted the assistance of Company NCO's who then drilled the private constantly on the answers to questions he would need to answer before the promotion board. The private got with the program and studied late at night for the promotion examination. When he went before the board, he passed and the entire Company rejoiced at his success. At the next formation Whitney presented the new specialist patch to the former private. Whitney believed that this effort helped the Company overcome racial barriers and improved its overall performance.
Whitney's work ethic and the experience he gained through his military service continued to enrich his life after retirement in 1975. His first job after retirement was to teach the new Computer Management Information System to all staff at the Federal Power Commission. He was also an adjunct professor at the American University and assisted Price Waterhouse in the development of a worldwide civilian payroll system for the U. S. Government.
He believes that one of his most satisfying undertakings was serving as Scoutmaster for a Scout Troop at Wesley Methodist Church in Alexandria, Virginia which had the highest number of Eagle Scouts in the district.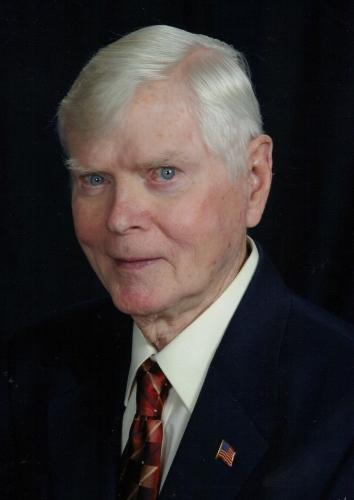 When a lake and a nuclear power plant were built in Louisa County, Virginia, Whitney understood its importance and helped form a corporation which bought surrounding land. This led to two developments which became a part of the new Lake Anna Community.
When asked about important life lessons for young people, Whitney identified a number of guidelines which he believes to be important. Recognizing what you do not know and validating what you think you know through experience is very important. Successful individuals should also assess their strengths and weaknesses and consciously seek to build on positive attributes. Whitney was influenced greatly by a book, The Power of Positive Thinking by Norman Vincent Peale, which was given to him at high school graduation by his mother. The possession of a "can do" attitude is very important. Much effort should also be devoted also in selecting a life's partner. He attributes much of his success and the happiness of his family to his wonderful wife. Finally, he noted that young people should understand the U. S. Constitution and the Bill of Rights to so as to acquire a deeper appreciation of what it means to be an American citizen.
Whitney summarized his world view as follows: " I believe that politicians of all countries preserve their positions by satisfying the wants of their citizens. Most of the wants are satisfied by getting or taking them from others. This generally requires increased military strength, in both offensive and defensive capability. The absence of proper political and religious influence on individual personal responsibility results in the world population being dependent upon others to satisfy their wants. The protection of our country's assets (that somebody else wants) requires us to have military superiority. Our country and our life depend on it."
As told to Bill Blair