PICKLEBALL AT SUNNYSIDE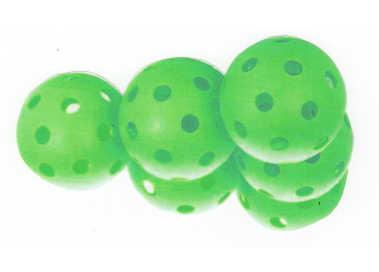 What do you know, or not know about Pickleball? Take the following true/false quiz:
1. Pickleball is like tennis, except instead of a ball you hit a rubber pickle.
2. Pickleball is like tennis except you hit the ball with a big green rubber pickle.
3. Pickleball is like tennis, played with nets, rackets and balls, but losers have to consume a jar of pickles.
4. Pickleball combines elements of tennis, badminton and ping pong.
5. Pickleball is played as doubles or singles.
6. "Pickle" was named for a game originator's pet dog.
[1,2,3: false / 4,5,6: true]
Sunnyside is fortunate to have a Pickleball enthusiast, Barbara Puzanskas, to explain rules and guidance to developing skills. She's available at 8631 for any questions.
This is a fun, social and friendly sport and the rules are simple and easy to learn. It's enjoyed by all ages and skill levels
Rackets, balls and net are provided and courts set up to play.
Mon., 8:45 a.m. - Wed. 8:45 a.m. - Sat. 10:30 a.m. Open court for anyone to use.
Tues. 2:30 p.m. - Fri. 2:30 p.m. Instruction, rules & games
Main objective: "fun"! No winners - no losers
Soon we'll be having hot days - enjoy pickleball in air-conditioned comfort!