STILL SHINING THROUGH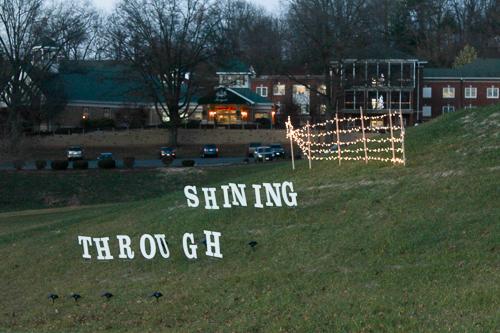 One of the most imaginative and hopeful ways to deal with the Covid crisis emerged from Sunnyside's own Marketing Department a few months ago. "We were trying to think of a safe and encouraging event that would emanate hope and light," explains Marketing Director Nancy Wayland. "Then a team of people—including the marketing team, Annie Shaffer, Layna Erney, Jeff Carr, and Steve Ray—collaborated to make Christmas at Sunnyside wonderful." The favorite theme that emerged from the team was Shining Through.
Marketing started to put together the Tour of Lights, with resident Pete Fundinger taking on the huge task of the light show. Fellow resident Colleen Cahill put together the songs, some of which were from recordings of the Sunnyside Singers. Nancy explains that "the Tech Club supported the whole idea, and the Woodworking Club made beautiful lighted snowflakes that were a part of the light show." She also emphasizes that Shining Through could not have happened without Buildings and Grounds putting up a large number of decorations and dealing with Marketing's creative additions and changes. Linda Davis made hot cider and snowy trail mix for the guests, and "even Santa and Mrs. Claus [Josh Lyons and Charlotte Sibold] came and handed out candy canes as everyone exited."
Nancy says they "lost count" of those who came but believes about 140 attended. Although the event had to be moved from the original date because of the snow, Nancy believes this was "serendipitous because the date it was changed to turned out to be the night the planets aligned, resembling the Star of Bethlehem, something that had not happened in 800 years."
Nancy is enthusiastic about how Shining Through turned out. Will this become an annual event? Perhaps we'll know later this year!