An Impressive Success !
Sunnyside's Inaugural Fellowship Fund Benefit Event "A Sunday Soirée"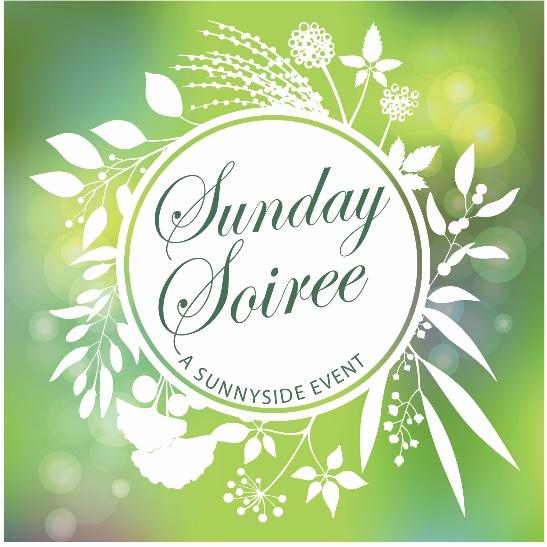 After almost two years of planning, our inaugural event was not only successful in raising $76,843 for the Fellowship Fund, but was also an enjoyable evening for everyone who attended. Taking a leap of faith over a year ago and deciding to hold our event at the Hotel Madison, at the time still under construction, paid off for us as the venue turned out to be the only place that would be able to handle an amazing number of attendees. Over 300 people attended our inaugural event, a number that far exceeded our original expectations. We cannot give enough credit to the Hotel Madison and their event staff and are thankful that they were willing and able to evolve with us along the way.
Here are some slide show photos of the event to get an idea of how it looked before our guests arrived.
The evening began with registration at 3:45 to accommodate the large number of early arrivals. The Silent Auction was open and held in its own Ballroom so that we were able to set tables, buffet lines, and bars in the Grand Ballroom. The Grand Ballroom doors opened at 5:00 pm to allow everyone to locate their assigned tables for the dinner and auction.
Prior to dining, Sunnyside Communities CEO Jack Broaddus welcomed our guests and recognized our two top levels of sponsors by reading their names and asking them to stand for recognition. The buffet was then opened and included a full meal with numerous selections: chicken, salmon, charcuterie, tossed salad, seasonal vegetables, and pasta pesto. A selection of red and white wines was also available, as were domestic beers and sodas.
After everyone had been served, the program for the event began, with Rob Murphy, Director of Development, reminding all of us just why we were there—to support Sunnyside's Fellowship Fund. The Live Auction began with Vern Michaels taking the stage to work along with Rob and Don Myers. Rob and Don read brief descriptions of each item in the Live Auction while the backdrop was filled with a PowerPoint descriptive slide. Once the description was read, Vern jumped into action—and if you have never seen him at an auction, then you have missed quite a show. Flying back and forth from the stage to the audience, from one side of the ballroom to the other, he coaxed, cajoled and pried every last bid out of the bidders. It was an entertaining interlude, and by that time everyone was relaxed and enjoying the event.
After all of our items were auctioned off, the Co-Chairs, Glenda Rooney and Pat Harkins, took the stage to thank all of our attendees and to make several announcements. Coffee and a dessert of Crème Brûlée led to a raffle of a beautiful succulent arrangement to one of our lucky attendees. Mary Scott was the very happy winner of the raffle. The checkout process went smoothly, and cleanup afterwards was also accomplished in very short order. While the event itself ran longer than 7:00 pm, we were all on our way home by 10:00 pm.
The gross receipts from the event now sit at $103,040. We were all astonished that we were able to raise that amount. Through the generosity of many important sponsors for our event, our costs were kept in line: Mid Valley Printing for covering the cost of Save the Date cards and our invitations, and Hotel Madison for donating the use of their Conference Center space to us. It was very important to the Committee that as much of our proceeds as possible went directly to the Fellowship Fund. We held ourselves to a high standard and are proud of the final result.
For more information, click here for a timeline peek behind the scenes. While it was a very long weekend for most of us, it was well worth the hours, days, and months of planning and working on this event.
There are too many to thank in this article, but several individuals deserve some extra praise. First, Betsy Eggleston and Marilyn Alley for designing and executing our table arrangements. Betsy flew back from her Maine home to work on these, and Marilyn held down the fort and took care of details while Betsy was gone. The Corporate Office Staff—Lynda McMillen, Lisa Kanney, and Pat Knight—for their support and assistance from beginning to end, including their work that evening from Registration to Check Out, with smiles on their faces! Lisa also designed and set up the computer program we used to print our invoices and keep track of all items, and it worked fabulously. Pat was our graphic artist and designed the logo, invitations, and our save the date cards as well as our flyers and billboards. John Noffsinger for always being there to edit and create. Annie Shaffer and Lynda McMillen for covering our bases with Administration and the Corporate Office. And finally, Tom Harkins who designed our PowerPoint displays and was visible everywhere that evening, doing whatever was necessary. He also had to live with me for the past two years—a major feat in and of itself!
Thanks to all who attended the event, donated items to the auctions, sponsored at all levels, volunteered, and just wished us well and had faith in us. We appreciate it more than you know. Sunday Soirée Event Planning Committee: Pat Harkins, Glenda Rooney Co-Chairs; Ambassadors Program: Charlie Scott, Don Myers; Committee: Joanne Bell, Charlie Scott, Carol Anne Van Duyn, Gina Holden, Don & Nancy Myers, Jackie Gerrard; Decorations: Betsy Eggleston, Marilyn Alley; Staff Liaison: Annie Shaffer; Corporate Liaison: Lynda McMillen; IT Support: Tom Harkins; and Writer's Group: John Noffsinger, Kat Marlowe.
--Pat Harkins, Co-Chair