Art and Artists
Purpose
A loosely networked group of artists working in oils, water color, multi-media, fibers, silver, and other mediums live in the community. Studio space is minimal for most of us, so we are working to provide shared work space with a little social interaction thrown in. Our dream is to have a well-lighted and ventilated space where we can work at our own pace, leave our materials and works in process, have regular critiques, and plan group activities.
For all Local Art Events & Calls to Artists as well as
Art Happenings & Opportunities in the Community go to:
The Arts Council of the Valley
 provides a calendar of community arts events, including films, plays, concerts, gallery openings and events at its Court Square Theater. Just click on the words "Arts Council of the Valley" above to find the site.  It sponsors First Fridays in Downtown, monthly gallery openings, music  venues, and entertainment close to the Square.
Activities
 Coloring Group will meet in the Highlands Massanetta (Arts and Crafts) Room. Bring your own materials.
Needlework Arts
Group. Stitch & Chat will meet in the Eiland Center Jefferson Room on the second Saturday of each month from 2-4 PM. Bring your own projects, problems and solutions as well. Have fun while sharing common interests in what needles can do.
Art Group Open studio
meets every Friday, 10 to 12:30 in the Sunnyside Room. Paint, color or sketch- all are welcome! Bring your own art supplies and a plastic tablecloth for easy clean up. Questions? Call Anita Brechtel (8742) A few of our resident artists do have studio space and continue to work there. We are not all painters. Several fiber artists, a stained glass artisan, a wood carver, and even a sculptor live here. We welcome your questions about what we do or the local art scene.
Mary Rouse paints, does collages, makes silver jewelry, and does many of the photographs for this and other websites. She will happily answer your questions about the local art scene, sources for materials, or help you with a problem. Contact her at 540-246-6363 or JewelrybyRouse@gmail.com. She is on the board of the Arts Council of the Valley.
Nan Bowman is a retired school art teacher, so knows lots of tricks of the trade. Reach Nan at 540-568-8348.
Anita Brechtel works with water colors and oil pastels. She is a member of the Shenandoah Valley , the Illinois and the Virginia Watercolor Societies. Anita may be reached at 540-437-8742.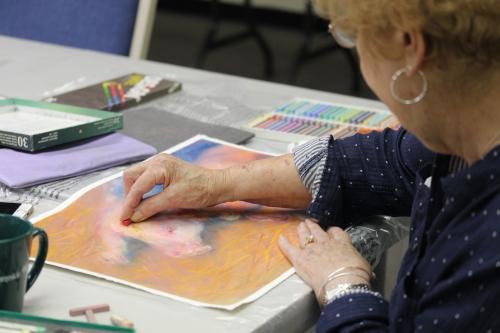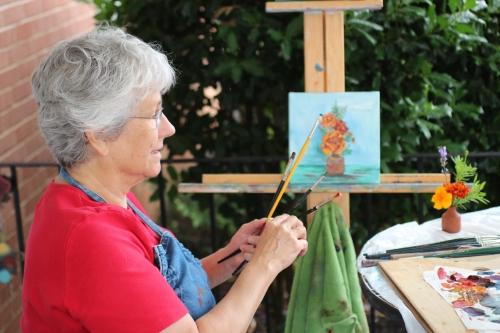 Meetings
Irregularly scheduled work days in the Sunnyside Room.  Watch the Sunnyside-Times Calendar and the Funside for scheduled activities.
Contact for More Information
Contact Anita Brechtel at 540-437-8742 with your questions about work days..