A Portrait of the Artist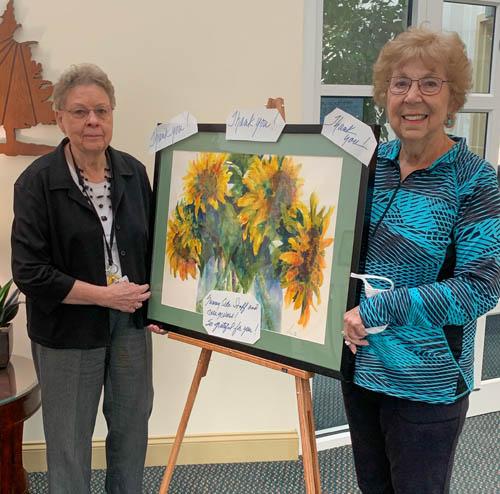 Sunnyside resident Anita Brechtel has been involved and interested in art for much of her life, starting from when she was named art editor of The Burdick Buzz newspaper in elementary school in Milwaukee, Wisconsin.  Anita says she always found herself doodling as a child, but these humble beginnings had artistic ramifications as she grew up.  In high school, for example, she designed scenery for the operettas put on by the music department, and in college she painted murals.  Other loves Anita had at this time included synchronized swimming and dance.  It might then come as something of a surprise to find out she did not major in art but rather in Physical Education and History, and this academic training led her to teach Phys Ed in public high school for 36 years.  Anita recounts that if she'd gone to the University of Wisconsin she probably would have majored in art, but she found the size of the university intimidating so instead studied at Wisconsin State University in LaCrosse.  Throughout her years of teaching Anita always took art classes and painted.
Anita's preferred medium is watercolor because she loves the "transparency" of the work:  "the painting looks different according to what light it's in."  Another medium she loves is oil pastel, which she describes as "glorified finger-painting."  In this medium the artist applies the oil paint, which comes in sticks, to the canvas and manipulates the colors with fingers or a palette knife.  She's also worked with chalk pastels and acrylics.  When asked if she has a studio in her cottage, Anita replied, "My whole cottage is my studio though I have a delightful sunroom that I particularly enjoy using." 
Since moving to Sunnyside in 2014, Anita has been a member of the Shenandoah Valley Water Color Society.  At their annual exhibit at VMRC in October she has twice won best in show.   Anita is now teaching a watercolor class at Sunnyside.  While this class is currently meeting weekly in the Pavilion, colder weather will soon cause a switch to the Sunnyside Room.  Also, once a month Anita has an open studio in the SS Room, where people can bring their work and get her gentle instruction.  These open studio meetings are informal get-togethers rather than more formal classes.
Anita has also done quite a bit of commissioned work, primarily people who'd like a photo they've taken—especially a travel picture—transmuted into a watercolor.  In addition, she has frequently donated paintings to charities to be auctioned at fundraisers.  When she has time for her own work, she likes to revisit her travel photos and to use them as a resource for her art.  Recently Anita has donated several paintings, including a gorgeous watercolor of sunflowers, for the Sunnyside contribution to the Alzheimer's raffle.
Anita is obviously extremely talented yet modest about her work.  She says her one wish "is that when people look at my art it brings them joy."