More Poems from Cynthia Conley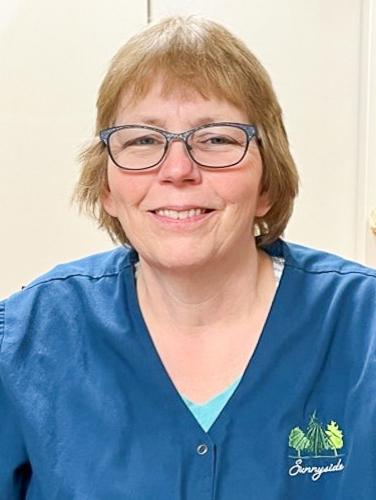 Cynthia Conley has been a housekeeper at Sunnyside for over 10 years. She started writing poetry when she was very young. Her writing is her special calling. She delights in sharing her poems that inspire and give comfort.
These poems are from her book, Reflections of the Heart, published in 2019.
Here are three more poems by Cynthia; if you missed that last two, you can find them at A Special Calling …
Always Look Up
Keep your chin up.
Keep your head high.
Things will get better
By and by.
Behind every cloud
There's a ray of sun,
Waiting to shine
On the faithful one.
Yet if you hold your head down
When the sun shines through,
You'll never see its golden rays
Shining down on you,
So always look up
And keep your head high,
And you will see the sun again
By and by.
Designed with Love
The sea shells on the ocean shore,
The stars that shine above,
Were all created by God's hand,
Were all designed with love.
Each snowflake that will ever fall,
Each morning drop of dew,
Each flower that you look upon,
God designed for you.
The sunrise that we see at dawn,
With colors all aglow,
The sunset that we see at dusk,
All beauty that we know.
Yes, everything we do behold,
All that our eyes can see,
God designed these things with love,
Just for you and me.
Clouds
There's something about the clouds
That's just so amazing to see.
For a cloud can be
Whatever you want it to be.
A cloud can be a butterfly
Suspended up on high,
Or it can be an elephant
Pretending he can fly.
It can be cotton candy
Or a baby's face,
Or it can be a dinosaur
Just lounging out in space.
A cloud can be a flower
Growing in the sky
Or it can be an airplane
That's just a soaring by.
A cloud can be so many things
Hanging up above,
Including a reminder
Of God's never-ending love.
Yes, there's something about the clouds
That so many fail to see.
Just take the time to look above and tell me what you see.